Buy cheap GeoTrust SSL certificates and get up to 53% discount from platinum partner of GeoTrust ClickSSL. Renew your GeoTrust products with us and get the benefit of the lowest price, either you purchased SSL from us or from other sources. ClickSSL offers the cheapest prices and optimum customer support on authentic GeoTrust SSL certificates!
Buy GeoTrust SSL Certificates
available up to 53% cheaper price compared to vendor.
QuickSSL Premium
GeoTrust QuickSSL Premium carries automated domain validation procedure. You can get this inexpensive SSL certificate without sacrificing security needs which is compatible with most operating systems and web browsers.
from$62.10/yr
True BusinessID
GeoTrust True BusinessID offers domain as well organization validation feature that makes it more trusted. You can get business-class security at affordable price that gives assurance to visitors that the site is secure to deal.
from$81.97/yr
True BusinessID Wildcard
GeoTrust True BusinessID Wildcard is time saving and cost-effective option to secure unlimited subdomains. By adding an asterisk (*) before your common name, you can set up robust encryption on your base domain including its all subdomains.
from$330.37/yr
True BusinessID with EV
GeoTrust True BusinessID EV SSL will prominently indicate "your brand name" in the address bar including green padlock and HTTPS. This certificate will enhance visitors' confidence to interact with your website for online shopping.
from$164.77/yr
Multi-Domain SSL (UCC)
GeoTrust Multi-Domain SSL can secure your base domain as well as your other domains with a single certificate. This SAN-enabled certificate will save your time and money from buying and managing many individual certificates.
from$239.29/yr
Multi-Domain EV SSL
GeoTrust Multi-Domain EV SSL secures multiple domains with a single certificate that reduces administrative hassle from multiple certificates management. The browser will show "Company Name" in the green text across your all domains.
from$330.37/yr
What Makes GeoTrust SSL Awesome?
enterprise-class services & features that makes GeoTrust certificates amazing.
Broad Range of SSL Product
Get what fit your needs! Being GeoTrust platinum partner, we have broad range of SSL certificate products from single domain validation to extended business validation that can protect a single website, subdomains or multiple domains.
Free GeoTrust True Site Seal
GeoTrust offers Free Site Seal with each SSL certificate product. Visitors can verify your website authentication by clicking on site seal. Site seal helps you to gain customer trust, especially when customer is there on login-register page, payment process page or on any other pages.
Supports WWW + non-WWW
All GeoTrust SSL certificates support both WWW and non-WWW domain. To enable this feature, you need to take extra care while generating CSR key. Use your full domain name (with WWW) while you generate CSR key and your SSL will work fine with both the version of domain.
Unlimited Server Licenses
GeoTrust SSL provides unlimited server licenses at single certificate cost. Unlike other CAs, GeoTrust offers multiple server licensing feature that helps you to keep the cost down for SSL certificate. With GeoTrust multiple server licenses, you can install same SSL certificate on many servers you need.
$500K to $1500K Warranty
GeoTrust SSL are issued with $500K to $1500K USD NetSure warranty offered by GeoTrust CA. Warranty is included free of cost with each GeoTrust SSL purchase and renewals that can help to secure your business sturdily and win customers loyalty.
Google Security
SSL makes your business secure and encourages your website visitors
to get your products or services with confidence.
Without SSL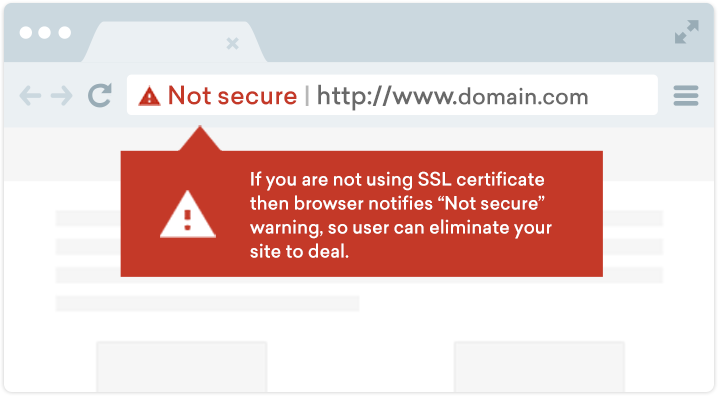 With DV / OV SSL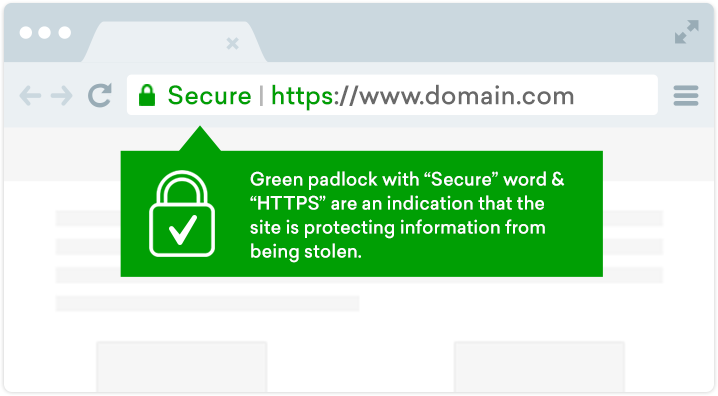 With EV SSL