Symantec SSL Certificate helps to secure your both www & non-www domain names which is an excellent initiate, means now Symantec is not limited to PC and Server security only. The authority deals with many security product solutions including SSL Certificates, Malware Scanning Services and Vulnerability assessment. Symantec (VeriSign) has also updated security parameters with the latest algorithms and technology like ECC algorithm and SHA-2 support, SAN support, etc. Adding Symantec SSL certificate will make your website more secure and trustworthy in the eyes of customers.
Cheap Symantec SSL Certificates
Symantec SSL Certificates available up to 34% cheaper price compared to vendor.
Secure Site
Symantec Secure Site is an organization validation SSL certificate that allows business owners to set up their authenticate identity over the web. Visitors will have ample of confidence while dealing with the web platform.
from$272.41/yr
Secure Site Pro
Symantec Secure Site Pro comes with strong 256-bit encryption to protect users' data as well free vulnerability assessment and daily malware scan features will continuously examine your web pages for malicious activities.
from$661.57/yr
Secure Site EV
Symantec Secure Site with EV indicates green address bar and assures visitors that they will have extreme protection over the website. Seal-in-Search helps to get visitor's confidence by placing it beside website in search engine.
from$578.77/yr
Secure Site Pro EV
Symantec Secure Site Pro with EV SSL removes security weakness by providing robust 256-bit encryption along with green bar. The company name indicates on address bar itself ensures that the website has higher validation.
from$984.49/yr
Code Signing Certificate
Symantec code signing certificate enfolds your code and applications with digital signature to establish trusted environment. Users will ease to download your software with confidence by easily confirming publisher identity.
from$396.61/yr
What Makes Symantec SSL Awesome?
enterprise-class services & features that makes Symantec certificates amazing.
All-embracing Products
Symantec (formerly VeriSign) is world's leading certificate authority and providing wide-ranging SSL security products for their customers and small organizations to the largest businesses to protect information against the risk of online identity. More than one million web users trust on Symantec and use their SSL certificates to secure their web servers.
Vulnerability Assessment
Vulnerability is a potential entry point through which a website's security, functionality or data can be compromised. Symantec's FREE Vulnerability Assessment service helps you quickly scan and identify the website weaknesses and resolve all them instantly. EV SSL and Pro certificates include vulnerability assessment at free cost. Symantec Secure Site does not include this free service.
Daily Malware Scanning
Symantec daily website malware scanning servers scan and optimal number of pages of your website and analyze webpage code. Code scanning also includes javascript and iframe scanning as well behavioral analysis over web-browser to identify the malicious code that can be activated at page display time and this is the most important feature of this service, because mostly malwares are executed when website is displayed.
Norton Secured Seal
World's most trusted and highly recognized trust seal on the internet is now combined with Norton. Norton Secured Seal helps you building trust and convert visitors in to customers. it is a security symbol for increasing your customers' insight of safety and trust when they do business online. Click on the Seal and you can read the website owner's details that are verified by Symantec then only published on certificate details.
Seal-in-Search
Symantec Seal-in-Search adds Norton Secured Seal next to your website result link in Search Result of search engines like Google, bing, Yahoo!, etc. This seal helps the customer to identify the Symantec Trusted website from many search results. Seal-in-Search gives more confidence to visitors and helps you to convert them into customers. Seal-in-Search is seen by consumers who use browsers enabled with security plug-ins.
NetSure Warranty
Symantec SSL certificate are backed by NetSure Protection Plan to protect Symantec SSL Certificate customers against certain losses that possibly resulted from a breach on Symantec. Only Symantec offers highest NetSure warranty up to $1,750K with SSL certificates and web security solutions. NetSure warranty is offered by Symantec and warranty value is published by Symantec. Get complete information on warranty please visit NetSure Protection Plan.
Increase Conversions
Symantec SSL brings industry standard encryption to your website, then their certificate can help you to increase conversions. The certificates will boost your sales as more customers will consider your site as trusted. It also allows them to shop and purchase safely without exposing their information to outside sources. With the rise of identity theft, it is more important than ever for companies that do business online to have a reputable encryption and shopping cart online.
Google Security
SSL makes your business secure and encourages your website visitors
to get your products or services with confidence.
Without SSL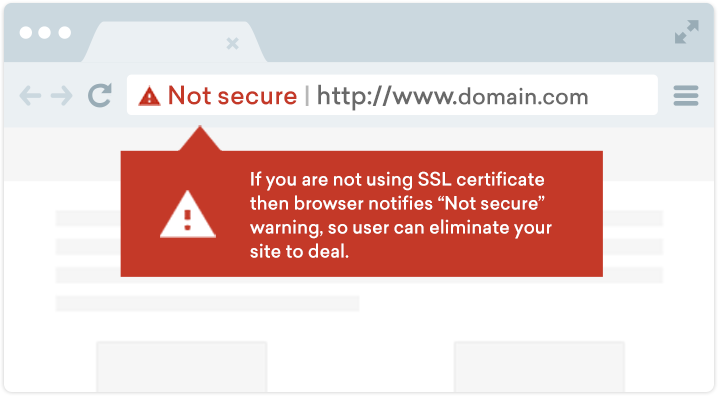 With DV / OV SSL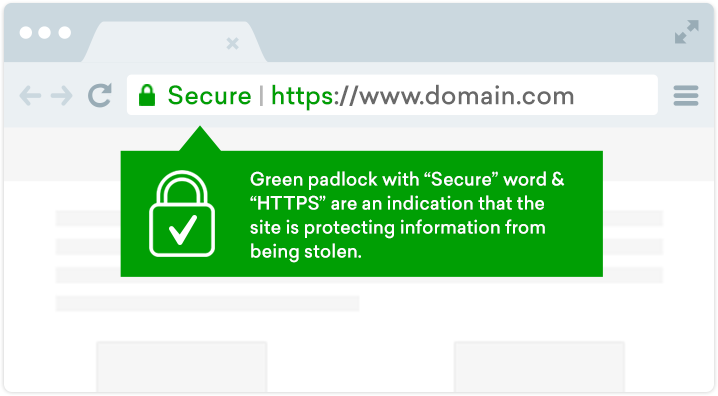 With EV SSL