EASY & QUICK SET-UP
WHITE BRANDED STOREFRONT
NO CREDIT CARD REQUIRED
Here is an exciting opportunity to establish a business, emerge as a brand and earn money effortlessly. ClickSSL brings its most awaited reseller program as an opportunity just for you. All you have to do is, just signup for our reseller program and start selling now. Are you worrying about the fees incurred by our reseller programs? Rest assured our reseller program has unmatchable pricing offers that too with totally free account set up. If you have a website or are planning to develop one, we will provide you the free API access. Establish your brand identity when in all these we remain anonymous to your customers. There are no hidden targets or deadlines to meet so experience a peaceful business with us.
ClickSSL Reseller Program Business Model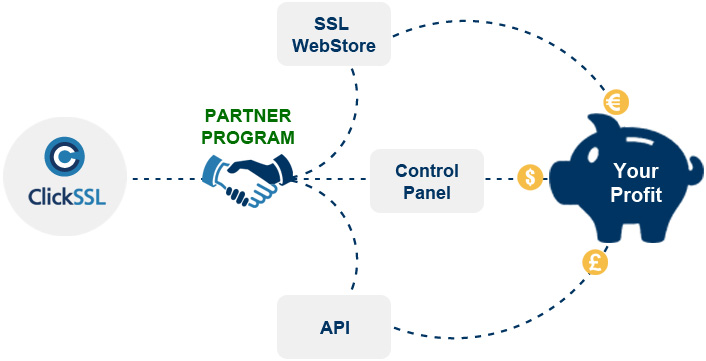 Features of API
Quick order process method
Manage renewals orders
Get order status
Order validation method
Fetch the current balance
Fully documentation available

Fetch the current price of the product
All necessary methods, to complete the SSL Configuration process
Very easy to implement
Sample code available
Features of Control Panel
Single platform to manage orders
Speed up purchase procedure
Hassle free renewals
Upgrade at your will
Easy to retrieve API & SSL WebStore

Quick billing process without storing credit card
Live client support 24/7
Client area with enhanced security
Ticket support to crack queries
Features of Free SSL WebStore
Fully integrate your own store
Automatic billing & invoice generation
Support multiple gateways
Fully integrated API
User-friendly interface

Set your margins
State-of-the-art security – FREE EV
Strong international support
Easy to engage in your own reseller program