Save
73.17%
Compared to Vendor Pricing
As a foremost transnational Certificate Authority, Thawte consultant's record of accomplishment speaks for itself. For over 17 years, it has been providing its clientele with superior SSL Certificates in approximately 200 nations. Inspiring customer loyalty and confidence by offering of Thawte Trusted Site Seals in regional languages, end users worldwide are able to transact over the internet in their native dialects, hassle-free and without language barriers. In addition to 18 language options, Thawte Certificates are available in a variety of assurance and encryption levels befitting all types of websites. Select from Extended Validation, SGC SuperCerts, Domain and Full Organization Validation SSL and more!
Thawte Advantages / Benefits
Thawte Trusted Site Seal Available in 18 different languages Internationally recognized SSL trust mark
Wide Range Thawte SSL Products Delivers an easy product selection DV, OV, EV, Wildcard, SGC, Code Signing

Warranty up to 1500K Netsure protection plan on all Thawte SSL certificates

Securing IDN Names Effortlessly integrated with Internationalized Domain Names

Features
99.9% Browser
Ubiquity

30 days
Money back

Mobile
Support

FREE
Re-issuance

256-bit
Encryption

Installation
Checker

Optimum Protection that won't break the Bank!
The safeguard of sensitive information and personal data is a growing concern during internet communication. Therefore, employing a secure connection is foremost in the minds of consumers – and your security leader at ClickSSL. We make it our business to keep your business private by ensuring that only those, for whom it is intended, have the ability to access data transmitted over the internet. That being said, Thawte is one of the leading X.509 certificate authorities in the world. One glance at the Thawte
Trusted Site Seal
will tell your customers that your website is trustworthy, reliable and a safe place for digital transactions. Secure your information, protect your interests, and put your customers at ease by proudly displaying a Thawte Certificate from ClickSSL!
Why Buy Thawte SSL Certificates from ClickSSL?
Are you concerned about the cost of a Thawte Certificate? Well, don't be! That's the radiance of ClickSSL; we offer the same high quality product at cheap price. Here cheap Thawte SSL doesn't mean cheap quality, as a platinum partner and authorized re-seller of it, the alliance that has developed between ClickSSL and Thawte, tied with our high purchase volume, allows us to pass the savings along to you. Unlike some of our competitors, ClickSSL does not "pocket the difference". We're more interested in forming long-standing and trusting relationships with our loyal customers.
See What Thawte Customers are Saying!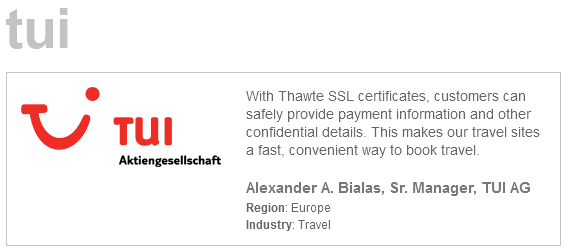 eCommerce business owners experience strong security encryption for their websites and secure online transaction by using Thawte SSL. Read customer success stories – how Thawte Certificates and Products have helped organizations to reach their true potential.
Thawte Trusted Site Seal
Thawte Site Seal is more trustworthy as compare to other certificate authorities.
With purchase or renewals of SSL certificates, you will get the Thawte site seal at free of cost. To display the dynamic site seal on your website, you must go to its official website to generate HTML code by click here. While you get your HTML code, just update it on your website or web page.
Why wait? Buy today and secure your site with a Thawte SSL Certificate!