Save
42.97%
Compared to Vendor Pricing
EV SSL Certificate will turn your address bar into green color of the browsers. The visibility of the green address bar helps customers and visitors to safely carry out their transactions with the organization, through a secure encryption. This encryption also means that the organization or the institution has received authentication based on the industry standards. When you buy EV SSL certificate from authorized re-sellers like us, you can get it at cheap price as compare to CAs.
About EV SSL Certificates:
Extended Validation SSL Certificate being an x.509 public key certificate issued to websites on the basis of a precise bunch of criteria of identification and verification. The SSL certificate can be considered a platform for security of e-commerce websites. It is a certification of the technology of standard security, which creates a secure link with encryption between a web browser, and a web server. Prior to the issuance of the certificate, the identity of the requester has to be verified by the Certificate Authority (CA). Different CAs offers EV SSL at cheap to highest price in the market, you can choose one depending upon your requirements.
For Example:
When you access bank website that is secured with EV SSL through any browser, your address bar will turn into green color showing highest authenticity and security. In the latest version of leading web browsers, you will be able to find organization name, owners identity along with Certificate Authority name (Symantec, GeoTrust, Thawte) on green address bar, which indicates that website is protected with robust encryption as per EV Standards.
Advantages of Extended Validation SSL Certificate:
When a website possesses an EV SSL Certificate, the small icon next to the address bar, turns green. This helps to customers or visitors on the website to trust the website relatively easier than they are able to do for sites that do not have EV Certificates. Along with the colored display, visitors and customers will also be able to view the name of the institution (owning the website, as well as the SSL Certificate), accompanied by the name of the CA or the Certificate Authority, that issued the Certificate.
Key Benefits of Extended Validation SSL:
SSL Features in a Single Certificate – Extended Validation SSL certificate provides daily assessment of malware and phishing attacks while securing the website's overall operations at cheap cost. Customers are likely to shop for items and visit the website more often, giving them high confidence and assurance.
Earn Customer Confidence with the Green Address Bar – This type of SSL provides a green address bar, showing the customers and visitors that the website is verified and authenticated.
Authentication Available Worldwide – Whether the customer is from USA, UK, Australia,Japan or Europe, EV SSL is available to all visitors' web browser worldwide.
Lifeline at 24/7 – ClickSSL provides 24/7 support for companies, providing better control of SSL certificates and services.
Why Do You Need a Higher Level of Authentication?
Web scams and phishing have become sophisticated. As technology upgrades, security threats also increase, and today, fake websites are harder to distinguish. While e-commerce has brought us convenience and ease of online transactions to various businesses, the concerns about identity theft and online imposters are prevalent. Visitors should know that a website is safe and secured via the green address bar on web browsers, ensuring them that the site they are visiting is legitimate and well authenticated.
EV Authentication Requirements
How EV Appears in Your Browser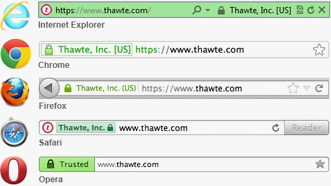 Increase Consumer Confidence:
Be assured that using the EV SSL will increase consumer confidence with the padlock symbol as well as the business information that will be displayed. With the potentiality of scams and fraud, encryption is a must have. It also provides the consumer with confidence by using third party verification and a display that is highly visual.
Extend reputation and increases Value of your business:
EV SSL is the best choice when it comes to needed extended validations of a organization by reputed certificate authority. ClickSSL provides different Extended Validation SSL certificates from reputed CAs at up to 70% cheap price. Additionally, this certificate has become vital as not all SSL certificates are the same when it comes to intelligent risk assessments. Company details like 'Company name', 'Domain name' and 'Business address' will be displayed when user click on Green Address Bar. This new standard shows up in the address bar as a green bar with a padlock, which most visitors to your business will recognize as being reputable.