Wildcard SSL certificate are the perfect solution where web store is occupied with sub-domains and wishes to encrypt all information which is transmitted over the main domain and its related sub-domains. You have to pay for a single Wildcard certificate to protect your multiple sub-domains. You are at the right place where you have the broad choice of selecting cheap Wildcard SSL certificate that will issue by leading brands such as Comodo, RapidSSL, GeoTrust and Thawte.
Cheap Wildcard SSL Certificates
compare SSL Wildcard certificate prices, features & providers- up to 57% cheaper than vendor.
Comodo Positive SSL Wildcard
RapidSSL Wildcard
Comodo Positive Multi-Domain Wildcard SSL
Thawte Wildcard SSL
GeoTrust True BusinessID Wildcard
Price
$97.50

/yr.

$103.05

/yr.

$165.00/

/yr.

$274.50

/yr.

$341.10

/yr.

Buy Now
Buy Now
Buy Now
Buy Now
Buy Now
CA Price
$229.00

/yr.

$174.00

/yr.

$349.00

/yr.

$524.50

/yr.

$436.50

/yr.

Secure
Unlimited Subdomains
Unlimited Subdomains
Multiple Domains & Its All Subdomains
Unlimited Subdomains
Unlimited Subdomains
Validation Type
Domain
Domain
Domain
Organization
Organization
Issuance Time
10 Minutes
10 Minutes
10 Minutes
1-3 Days
1-3 Days
SSL Encryption
256-bit
256-bit
256-bit
256-bit
256-bit
Key Encryption
2048 bits
2048 bits
2048 bits
2048 bits
2048 bits
Server Licenses
Unlimited
Unlimited
Unlimited
Unlimited
Unlimited
Google Rankings Boost
WebTrust Seal
Reissue Policy
EV Support
Green Address Bar
Wildcard Support
SAN / UCC Support
Browser Support
99%
99%
99%
99%
99%
OS Support
Smartphone Support
Warranty By CA
USD $10,000
USD $10,000
USD $10,000
USD $1,250,000
USD $1,250,000
Refund Policy
30 days
30 days
30 days
30 days
30 days
Free Reissuance
Support
Buy Now
Buy Now
Buy Now
Buy Now
Buy Now
What Makes Wildcard SSL Certificate Awesome?
enterprise-class services & features that makes wildcard certificates amazing.
A Single Asterisk (*) – Power of Unlimited
When you buy Wildcard SSL, do not forget to add a single asterisk (*) just before your common name (i.e. – *.yourdomain.com, which refers unlimited numbers in the manner of first level sub-domains (i.e. – mail.yourdomain.com, shop.yourdomain.com, etc). Single asterisk (*) before your domain name opens the door of unlimited sub domain protection. Certificate issued on *.yourdomain.com can secure yourdomain.com as well as first level sub domains like blog.yourdomain.com, store.yourdomain.com etc.
Identical Security to Cover All Corners of the Web
We are providing cheap Wildcard SSL, in the manner of pricing not in the quality of certificate.You can set up same authentication, same 256-bit SSL encryption and 2048-bit key encryption over the root domain as well its sub-domains. It reduces eavesdropping and other threats during online transactions. Also, as per CA/Browser forum, Wildcard certificate SSL comes with 2048-bit RSA private key that makes brute force impossible.
Just Relax! Stay Safe on Multiple Servers
Wildcard certificates are featured with unlimited server licenses, so don't worry. You can easily set up secure environment if your sub-domains are hosted on multiple servers without paying any additional charges. Just implement the same certificate on the each server where your sub-domains are located.
Easy Management & Cost-effective
Purchase an individual SSL certificate for each sub-domain can be pricier as well you need to spend more efforts and resources to manage certificates like generate CSR, purchase, renewal, installation, etc. Beside this, you can fulfill your all sub-domains security requirements by getting a single Wildcard certificate which will reduce your management cost.
Diversified Brands
ClickSSL understands customer's psychology and offers different brand Wildcard SSL certificates to meet every business requirement. There are different authorities like Comodo, RapidSSL, Thawte, and GeoTrust that offers maximum protection with their Wildcard certificates.
24/7 Support
ClickSSL offers 24/7 continuous support for customers so customers get their real value of investment that they did for SSL certificfate.
Wildcard SSL Certificate FAQ
Google Security
SSL makes your business secure and encourages your website visitors
to get your products or services with confidence.
Without SSL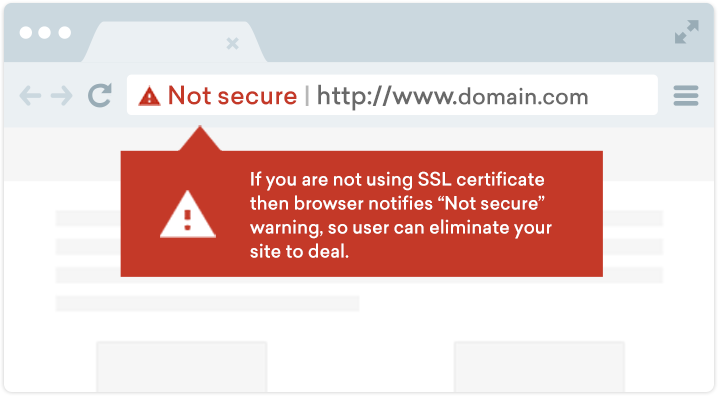 With DV / OV SSL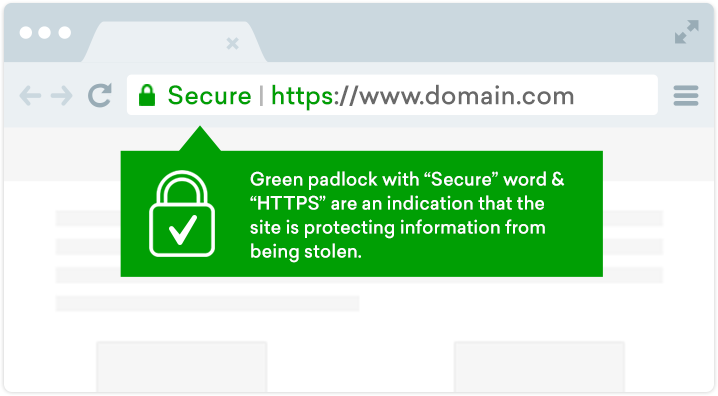 With EV SSL