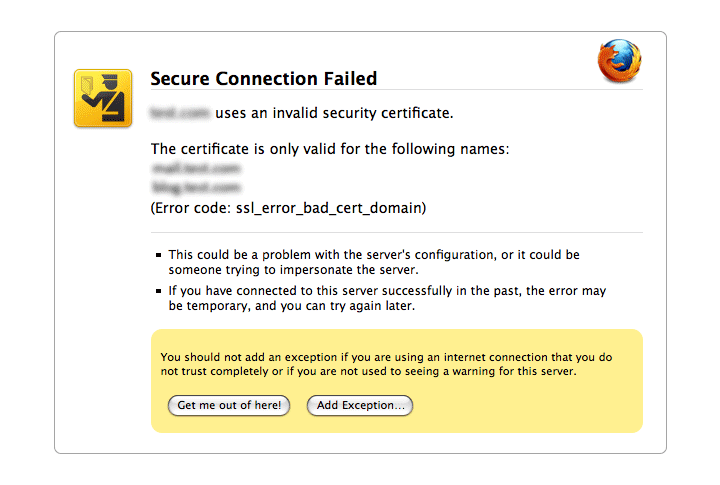 The security certificate presented to this website was issued for a different website's address.
Reason 1:
This error is widely known as the 'name mismatch error'. In this error, the common name of the domain recorded in the SSL certificate does not matches the address typed in the address bar.
For example:
If you have SSL certificate for www.abc.com and you access it with https://abc.com then the browser will display the SSL certificate name error.
Solution:
RapidSSL certificate and GeoTrust QuickSSL Premium certificate automatically secures both www and non-www part of a domain name with a single certificate.
RapidSSL Certificate
GeoTrust QuickSSL Premium
Our Cheapest Price
$10.00

/yr.

$62.10

/yr.

Buy Now
Buy Now
CA Price
$47.04

/yr.

$143.04

/yr.

Secure
Single Domain
Single Domain
Validation Type
Domain
Domain
Issuance Time
10 Minutes
10 Minutes
SSL Encryption
256-bit
256-bit
Key Encryption
2048 bits
2048 bits
Server Licenses
Unlimited
Unlimited
Google Rankings Boost
WebTrust Seal
Reissue Policy
EV Support
Wildcard Support
SAN / UCC Support
Browser Support
99%
99%
OS Support
Smartphone Support
Warranty By CA
USD $10,000
USD $500,000
Refund Policy
30 days
30 days
Free Reissuance
Support
Buy Now
Buy Now
While purchasing SSL certificate, prefer the common name (domain name) with "www" to be the one for which the SSL certificate must be issued in order to prevent the above error message.
Reason 2:
There can be a possibility that the website must be using the accurate SSL certificate but the CA root/chain/intermediate certificate has not been installed. This is a real getting on nerve case as some browsers will give such type of warning while some do not. Internet Explorer will automatically infuse the intermediate certificates in the very first time while the Firefox won't.
Solution:
Install SSL certificate properly by following a step by step guide. To make sure that whether the certificate is installed properly or not use an SSL installation checker tool.