All of us get spam emails in our daily life. However, many of you do not know much about spam mails. The worst could happen, while responding to such mails if you are not aware of some important facts. In this piece of information, I would like to make you aware about email spamming and its prevention ideas. Email spamming being a serious part of cyber crime. It has made innocent users victim, steals personal information or money from many of users. Before digging deeply, I would like to make you aware about email spam how to identify spam emails and how to stop spam emails.
Email Spamming:
Email Spamming is generally considered junk mail or bulk mail or unsolicited commercial mail intended to draw users to phishing or malware sites. Spam mail may contain malware in form of malicious scripts or executable file attachments. These types of mails are sent in bulk to numerous recipients. A mail recipient innocently clicks on a link posted in mail and redirects to a malicious website where the user is being asked for login information. When a user enters login credentials, the cyber culprit makes user victim and steals his confidential information or money. Such spam mails are related like pharmacy, casino, reputed government or organizations, weight loss scheme, lottery winning.
Email Spamming In 2014: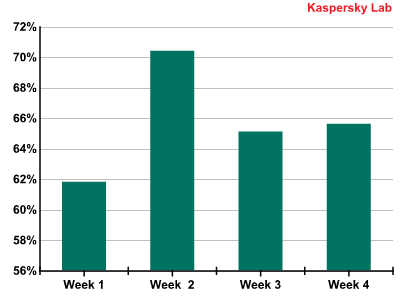 According to Kaspersky Lab, in the first four weeks of January 2014, email spamming was counted at 65.7% of all email traffic. However, we can see from the below graph that during the first week, the spam mail ratio was at 62%, which increased at 71% in the second week.
If we observe spam mail sources from country wise, then the USA stood at 21.9% in the first rank from the below image. The other countries have played their role in email spamming i.e. China (16%), South Korea (12.5%), and Taiwan (6.2%). According to region wise, Asia remained on top with 49.1% in spreading spam mails while North America and Europe remained with 22.7% and 15% respectively.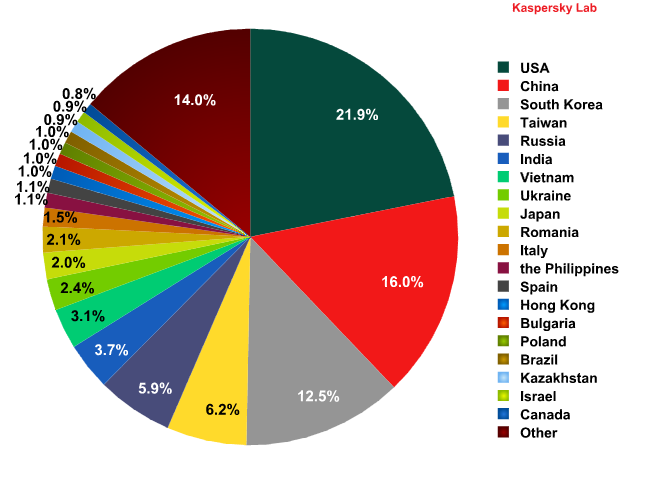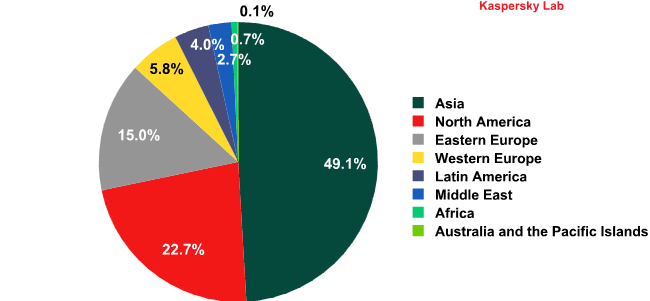 Top Malicious Programs Served Via Emails:
There were top 10 malicious programs used in spam emails that came in false notification via banks, eCommerce sites, and software developers. Below malwares used to steal user login information and some of them were designed to attack servers and PCs.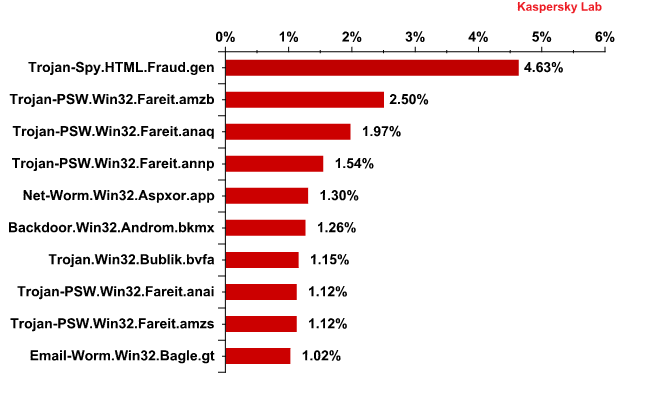 Phishing Email Count In 2014:
A Phishing email refers to send fake mail to users pretending to be a legitimate sender, and ask users to update their information on a false website. Many organizations in 2014 have suffered from phishing mails. Out of them social networking sites stood with the highest 27.34%. While the Email and IMS service (19.74%), search engines (16.95%) remained in second and third position respectively.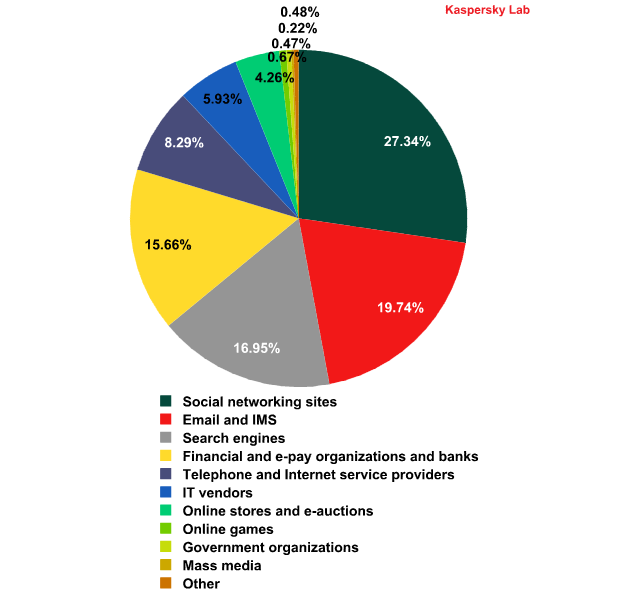 How To Identify Spam Emails?
It is good to have knowledge about spam detection technique before to answer any email. When users have knowledge about spam mails, they can prevent them from being a victim of email spamming. I have discussed some useful techniques to identify the spam mails that are as under.
Spam emails always come from unknown senders having odd email address. Such emails ask to reset password, and login credentials etc. Therefore, it is wise to check the sender information of suspicious message.
Spam emails may contain grammar mistakes and oddly worded sentences.
Spam emails may contain punctuation and capitalization errors.
Any lottery or contest winning mails should be avoided especially, when a user did not apply to any contest or lottery. Such mails ask for password or login details to complete the lottery procedure to steal user personal information.
Do not download any mail attachment if it is from an unknown source. Such attachments often contain a virus or malware that might infect the user system.

How To Stop Spam Emails?
After getting knowledge about email spamming, there are some precautions that users should take while dealing with emails. Below are the steps to stop spam emails.
Phishers grab bulk email addresses of people and use them to post free stuff offers like TV, mobile phone or any electronic device.
Do not share primary email address anywhere as it can put the user at risk.
User does not need to click "Unsubscribe" link as spammers know about the valid email address, and it will help to generate more spam. Therefore, it is best to delete spam mails.
Avoid using the same username and emailing address for mail account. Spammers can easily identify the email address of a user by username.
If the user receives any spam message in his/her inbox, then user should click on "Report a Spam" button so the next time such as mail sender will be counted as spam mail.
Apart from these, there are many companies like SpamExperts offering different services and tools that can help you to filter such emails and provides better security against such emails.
Spam In The Spotlight In 2014:
In January 2014, the world witnessed few spamming activities rather than lottery winning, corporate job offering, dating sites etc.
English-Russian language mass mailing that offered video surveillance system.
Nigerian fraudsters announced false death of Nelson Mandela and Ariel Sharon (Israel Prime Minister).
Holiday spam mail related to meal trip, flower offering, romantic tip etc to steal money from people.
Conclusion:
Email spamming is a common technique but can make heavy damage to user's privacy. The above precautions are necessary to avert such a perilous situation. Currently, many anti-spam tools are available to fight against spam mails.
Image Courtesy: kaspersky.com