Comodo EV SSL certificate has adopted the high level of encryption algorithm and strict validation process in order to validate the business identity. It provides the high level of security and maximum assurance that encourages your website visitors to complete their transactions safely. This enhances the online business processing by boosting the confidence among the customers regarding safe transactions. Comodo Extended Validation (EV) SSL certificate also safeguards your website from phishing attacks, web users can easily classify differentiate between the real and phishing website by confirming the displayed company name into green text in browser address bar. Read More
After following the rigorous verification process for issuance, it can be deployed easily on your server. Due to its easy deployment features, it is widely used by the large governments, financial organizations, educational institutes, banking sector and large volume eCommerce businesses. The certificate helps to build a secure platform where customers can safely enjoy online shopping. All login forms and payment checkout will be secured with Comodo Extended Validation SSL.
Display Company Name in Green Text
Comodo EV SSL is also called green bar certificate. Once you purchase or renew this certificate for your website, it will enable your company name into green text that informs your visitors the website is passed through the strict verification process and interactions are safe and secure. This green address bar enhances the confidence and enables the online business processing in a secure environment. It indicates that your online activities are free from cyber threats, data interception.
Highest Authentication Level
Comodo EV SSL follows strict validation process, so you need to provide organizational documents that prove your legal, physical and operational existence of the entity. This certificate comprises domain as well business authentication that requires signing a legal agreement, verification of legal documents and other government records.
Combat against Phishing Attacks
This certificate enables you to get rid of the phishing attacks, which is one of the major online obstacles faced in the current scenario during online business activities. Customer and visitors can easily identify the website with displaying company name in green text.
Well-built Encryption Algorithm
This certificate employs the highest level of 256-bit encryption. Due to modern encrypting algorithm SHA-2, it is not an easy task to intercept online transactions during their online processing. The certificate also comes with 2048-bit RSA key that makes certificate more robust against brute force attack.
Most Browsers Ubiquity
The Comodo Extended Validation SSL certificate is compatible with more than 99.9% all types of browsers, servers, and operating systems. So, users will not face any difficulty regarding compatible issues even if they visit your website through desktop, tablet or mobile browsers.
Reissuance and Server Licenses
It provides you with unlimited server licenses and free of cost Reissuance policy. You can use a single certificate to deploy in all the servers available in your organization for secure online business tasks. It also gives unlimited re-issuance policy for the convenience of the user in case of private key lost or changes in the organization details.
Full Refund Policy
If you are not satisfied with this certificate, you can immediately apply for the refund policy. It has come up with 30 days cash back guarantee. Make the best use of this policy if you are not happy with this product. ClickSSL will not ask you a question and refund your money soon.
Why Buy or Renew from ClickSSL?
Purchase a cheap Comodo EV SSL certificate from ClickSSL to secure your online business from unwanted cyber threats, malware and phishing activities. We provide 24/7 customer care support to resolve any technical issues regarding SSL certificates. Our experts will help you to install the certificate on your desired server for that you don't need to pay any additional charges, it's FREE service!
Purchase
Same Certificate for Less Price
| | | |
| --- | --- | --- |
| Validity | 1 Year | 2 Year |
| Comodo Price | $449.00/yr. | $359.00/yr. |
| ClickSSL Price | $180.00/yr. | $170.00/yr. |
| Discount Price | $135.00/yr. | $127.50/yr. |
We are offering huge discounts on purchase or renew Comodo EV SSL Certificate, you should go with multiple years option for more cheaper prices.
THE PROCESS

Purchase
License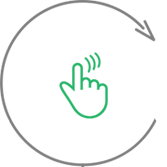 Activate
SSL Cert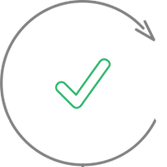 validate
Domain

Install
On Website
Features
Product Features
| | |
| --- | --- |
| Certificate Authority | |
| Product Name | Comodo EV SSL |
| Product Price | $127.50/yr. |
| Purchase | Buy | Renew |
| Secures | Single Domain - Both www and non-www domains |
| Great for | Online retailers, education and healthcare institutes |
| SEO advantages | Use SSL site-wide to get higher ranking in Google SERPs |
| Issuance | 3 to 5 business days |
| Validation | Extended Validation (EV) |
| Certificate Details | Verified domain name, organization name & address |
| Supported Algorithm | SHA-2 enabled |
| Certificate Encryption | 256-bit certificate encryption and 2048-bit key length |
| Server License | Unlimited - No extra cost for additional servers |
| SAN Support | |
| Warranty | USD $1,750,000 Warranty |
| Green Bar | |
| Paperwork | Company documents required |
| Browser Support | 99.9% all desktop and mobile browsers |
| Refund | 30 days full money back guarantee |
| Re-issue | Unlimited during the certificate life-span |
| Site Seal | Dynamic - Comodo Trust Seal |
| Seal-in-Search | |
| Anti-Malware Scan | |
| Vulnerability Assessment | |
Support
Guarantee
We Guarantee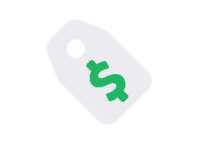 Cheap Prices and Best Support

30 Days Full Refund Guarantee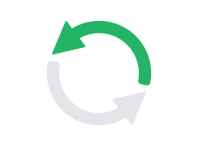 Extra Validity w/ Early Renewals
100% Compatibility:
Browser:

Mobile OS:

Client OS:

Control Panel:

Web Servers:

Get Free Trust Seal