Coronavirus Cybersecurity scams done by some hackers while the world is jointly battling the novel Coronavirus.
There are reports of many email phishing scams, app scams, social media scams, and misinformation all around. Hackers are even going to the extent of creating fake coronavirus maps.
In order to stay safe from all these scams, you have to take extra precautions.
Below are mentioned ten coronavirus cybersecurity scams that you need to be aware of and tips on how to help yourself from falling into one of them.
Types of Coronavirus Cybersecurity Scams
#1. Phishing Scams
Reportedly, malicious criminals are posing themselves as WHO personnel in an attempt to steal money or sensitive data.
The crooks may ask for your login information, send email attachments which you have not asked for, direct you to a website that is not http://www.who.int or seek donations to aid people in need.
For instance, below is an example of such phishing scams reported by the Sophos Security Team.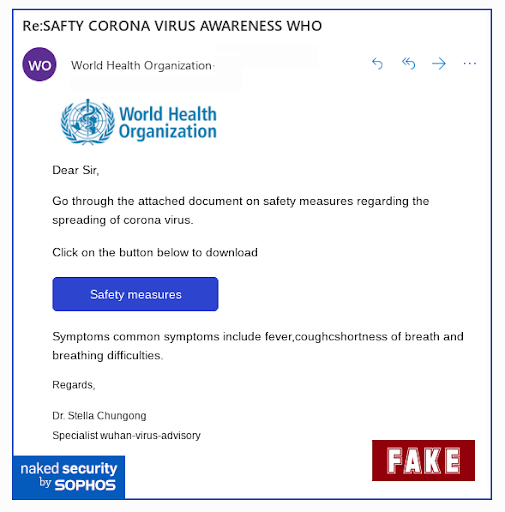 Image Creadit – sophos
#2. Email Phishing
Email phishing is on the rise as crooks create real-like emails from the Centers for Disease Control (CDC) or the World Health Organization (WHO). Since the domains used by the hackers are similar to the ones used by the organizations, you can easily fall into the trap.
Usually, the email contains a subject line with call-to-action urging you to open it. Once you open it, you will notice the body of the email is also crafted to look official. They usually contain real information about the Covid 19 and stolen logos from WHO or CDC.
You will be asked to click on a link to find out about the number of affected countries or death tolls or the deadly virus. The link will then take you to a counterfeit website where the hackers will try to steal your personal information.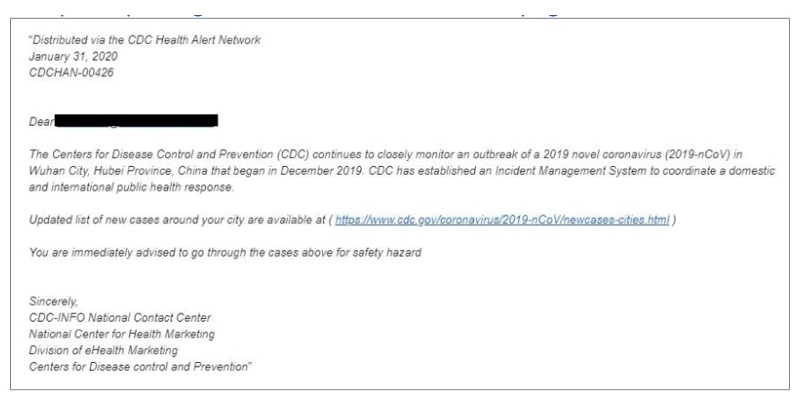 Image Credit : Norton
Some email messages will also ask you to open attachments to know about the virus. If you click on the attachments, you may download malicious software that will allow the hackers to compromise your system, log your keystrokes, or commit identity theft.
#3. Fake websites
Fake websites are being created by scammers to take advantage of those companies that allow employees to work from home.
If you are one of those employees, be wary of IT-themed websites that claim to help you. The scammers might trick you into giving up information or downloading malware by impersonating as helpdesk agents.
Also, watch out for fake coronavirus-themed sites that claim to aid those afflicted by the disease
#4. App scams
Be cautious of Android apps that may claim to help you purchase a safety mask. Reports have it that the app scans the contacts in your device and then sends text messages to them, asking them to download the app as well.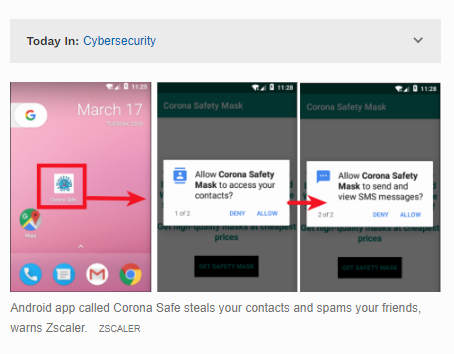 If you download the app, not only will you be spreading the Android worm, but you will have to pay for the carrier text charges.
#5. Fake coronavirus maps
It is one of the first Android app scams that purport to show a map of coronavirus cases and present statistics of the spread of Covid 19.
It is mobile phone ransomware that alters the phone password barring your access to your phone. To unlock or reset the password back to what it was before, you will have to pay a nominal fee in Bitcoin.
#6. Spoofing government and healthcare organizations
Scammers mimicking the UN's health agency are on the rise, spoofing government and healthcare organizations. They are trying to take over accounts or send donation requests via spoofed text messages, emails, and phone calls.
You have to be suspicious about false health agency warnings relating to infections in your locality or vaccine and treatment offers.
#7. Social media scams
Scammers are aware of the time people spend on social media and that posts can easily get viral. There are already random Facebook groups claiming to offer home cures for the deadly coronavirus and Twitter threads from self-appointed health experts. These are all scam-baits that you need to be aware of.
#8. Seller and buyer scams
From selling counterfeit masks to products claiming to cure coronavirus, scams are on the rise. As per Forbes, Amazon has already removed 1 million+ products with fraudulent claims related to the virus.
#9. Misinformation
The fear of the pandemic is leading people to share any information they get on social media. People are often misguided by false news about the disease.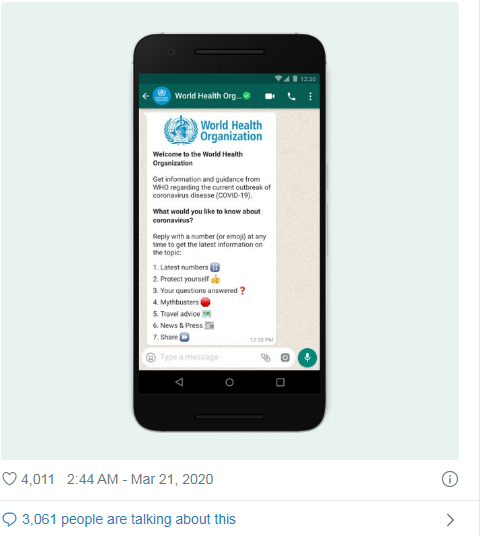 Source : abcnews
#10. Voter suppression
There are worries that disinformation about Covid 19 could impact the 2020 US election.
For instance, there was news stating that Russia is going after a voter suppression strategy to meddle with the US elections, and officials suppose agents from Russia are now to a certain extent to be blamed for misleading people about coronavirus globally.
How to protect yourself from Coronovirus Cybersecurity
Here is a checklist to protect yourself from coronavirus cybersecurity scams.
When you receive an unsolicited email, verify the sender's email address and see that their contact name matches the real email address they're sending from. Or don't open suspicions attachments or click on suspicious links.
A legitimate organization won't ask for passwords, payment card details, and sensitive data via email.
Watch out for generic greetings as phishing emails most likely won't use your name.
Know who purchases products from. Online sellers are making money out of fake products related to coronavirus.
Research well before you make a donation to any organization claiming to help afflicted people.
Don't fall for online offering vaccinations and home test kits.
Watch out for typographical errors in the domain name to make it appear like a legitimate site.
Stay away from people purporting to be a company helpdesk agent. He/she can be excessively pushy or reluctant to identify themselves.
Don't share posts on social media until you verify the news.
Sadly, the COVID-19 scams are only going to continue to increase. You should be extra careful not to fall victim to it.