The ERR_CONNECTION_REFUSED error message appears on Google Chrome when the user tries to search for something on the browser and the browser refuses to connect.
Google Chrome is one of the most popular browsers in this digital era. Though there are many other browsers like Mozilla Firefox, Internet Explorer, Safari etc. who are tough competitors, Chrome still tops the list due to fast browsing speed, quick page load and display, and easy-to-use functions.

Though Chrome has its list of advantages, sometimes this browser displays titled or untitled errors due to various reasons. One such error displayed by this browser on an unresponsive page is "ERR_CONNECTION_REFUSED".
"ERR_CONNECTION_REFUSED" – This error appears in the Chrome browser, mainly when Chrome is struggling to open a web page, but is unable to do so.
Reasons for ERR_CONNECTION_REFUSED Error in Chrome
Site refused to connect
Browser extensions or software clashing with browser
Downtime in internet connection
DNS Cache Issues
Cookies Issues
Outdated version of browser
Firewall or Antivirus interferences with browser
Many of you may have faced this error once in a while, but you needn't worry because fixing this error is quite simple.
Let's have a look at some simple and easy 10 solutions to fix this error.
How to Fix ERR_CONNECTION_REFUSED Error in Chrome?
#1. Check the website status:
Most of the times, "err connection refused" error occurs when Chrome is unable to load the website.
Check whether the same website is opening on another server or in mobile.
Check whether other websites are opening in Chrome browser or not.

"Down for everyone or me" is a service which shows the website status, once you enter the site name
If all the above checks show that the site is down, you need to wait till the website status is online and working.
#2. Check your Internet/Wi-Fi Connection:
If there are any issues with your internet connection or Wi-Fi routers, then the above error message is triggered by the browser.
Reset your Wi-Fi router by switching it off for a few moments before switching it on again and re-check if the error has been resolved or not.
#3. Clear Browser's Cache & Cookies:
Browser's Cache is the storage of images, videos, and logins, etc. which are stored in the memory of the browser. This helps to load repeat pages very quickly thus saving time.
But when the browser gets overloaded with all this stored data, its speed and efficiency reduce. Sometimes old cache memory interferes with new pages, causing ERR_CONNECTION_REFUSED error.
Instructions to clear browser's cache:
Open Chrome
In top right corner click More
Later click More Tools>Clear Browsing Data

Select All time – to delete everything
Click Clear data.
Another alternate method is to write "Chrome://settings/clearBrowserData" in the address bar and later click clear data by selecting the above options.
Check if the error still exists after clearance or not.
#4. Check Proxy Server Settings:
You may have used a proxy server sometimes to remain anonymous and protect your sensitive data against security thefts. The main function of a proxy is that it allows you to surf online with a different IP address and acts as an intermediary between browser and website.
Reasons of ERR_CONNECTION_REFUSED error:
Webserver can reject the IP address attached with proxy server, and hence display the browsing error
You have forgotten to remove the unavailable proxy server from internet settings
Incorrect proxy configuration
To remove the error, re-check your proxy settings.
Instructions:
Open the Chrome Browser. Go to Settings>System>Open Proxy Settings>Go to Connections>Click on LAN settings button.
Ensure that "Automatically detect settings" is disabled.
Under "Proxy server" section, ensure "Use a proxy server for your LAN" is disabled.
Click OK and restart.
#5. Disable Antivirus Software/Firewall:
Firewalls and Antivirus software protect the users, their operating systems and other sensitive data against malware or any other malicious activity, thus keeping hackers away from your website. After regular scans and updates, they block any suspicious activity in their peripheral area. But sometimes these securities may lead to site connection errors.
Antivirus or firewall may sometimes detect secured traffic as an unsecured one, causing the error. Disabling these securities may perhaps solve your problem.
Instructions:

Windows Firewall: Go to Control Panel > Windows Firewall, click on the "Turn Windows Firewall on or off" link on the left side, to turn off your firewall.
Later disable Antivirus software on a temporary basis. Check if the error is solved and after accessing your safe site, don't forget to enable these securities again.
#6. Reset your IP address & Clear DNS Cache:
Many users are unknown about the fact that DNS Resolver Cache is temporary storage made by the computer's operating system, which keeps records of all recently visited websites, webpages as well as domains. Its function is the same as browser cache, quick loading of websites and hence the occurrence of error occurs when DNS Cache is overloaded. Reset IP and Flush DNS Cache to flush out the error.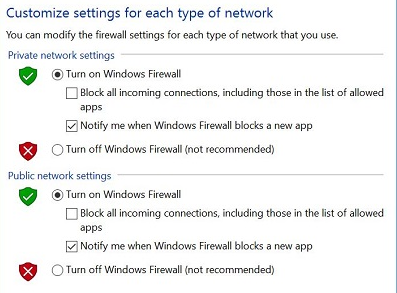 Instructions:
Open the command prompt programme by clicking on Start>type cmd.exe
Right click cmd.exe and select "Run as administrator">Yes.
Then type the DNS flush command "netsh winsock reset catalog" and then hit an enter button.
Note: This administrative command is a must to enter.
Later type the next command ipconfig/flushdns and then click Enter button.
This will complete your DNS clearance process. Start Over your computer to test the result.
#7. Change DNS address:
A loaded DNS server or an incorrect DNS address can cause "ERR_CONNECTION_REFUSED" error. Mostly DNS server address is directly obtained from ISP, but if you are using a third-party DNS, you need to reset that DNS with your ISP.
Instructions:
Browse "Control Panel"> "Network and Sharing Centre".
Right click on the active Network Adapter and open properties in the context menu.
Click on the "Internet Protocol Version 4 (TCP/IPv4)" and click on the "Properties" button.

A new window will open which will show you the place of entering custom DNS

Inside the popup box, you can enter DNS servers of Google; 8.8.8.8 for the Preferred DNS server and 8.8.4.4 for Alternate DNS server
Click OK and restart your browser
#8. Disable Chrome Extensions:
Chrome extensions customize user requirements and help in automating other processes with additional features. There are many extensions available for the Chrome browser; of which the majority of them are developed by third-party developers. Hence the changes of them being updated on a regular basis are remote and unnoticed.
Outdated or expired extensions lead to many errors like
net::err_connection_refused
err_connection_refused android
err_connection_refused localhost
err_connection_refused chrome
localhost refused to connect chrome
err_connection_refused in chrome
Auditing extensions on a regular basis will help solve most of the errors. Go for a check as to which extensions are necessary, and which are unused. Remove all unused ones for a smooth browsing experience.
Also, check whether the remaining extensions are updated regularly in the last couple of months or not.
Instructions:
Open the extensions menu by typing: chrome://extensions
Toggle to the left to deactivate individual extensions
#9. Reinstall Chrome:
Even the Chrome browser may be outdated or expired to show the above error. In this case, you need to completely uninstall the Chrome browser and later re-install chrome. You should check the latest chrome version and update it timely.
#10. Stop Synchronisation with Google Account:
Chrome and Google account synchronization may sometimes lead to this error. To stop this synchronization,
type chrome://settings/people in the browser search bar.
Your name and email id come up on the screen once you click enter after typing. There is a "Turn Off" button near your name.
Click that and reaffirm for errors.
Conclusion:
Various reasons can cause ERR_CONNECTION_REFUSED error in Chrome browser but can be fixed with the above solutions mentioned. Check out for each solution one by one until your browser becomes error-free. Hope this article has given you answers to all your queries, enabling you to have a smooth browsing experience.
Related Solution