Quick ways to fix NET::ERR_CERT_AUTHORITY_INVALID error on Google Chrome.
Google Chrome is one of the most popular browsers used by most users across the globe. This browser always ensures to provide network security to all its users. But many times, Chrome may display specific errors when users are trying to access websites. One such error displayed by this browser is NET::ERR_CERT_AUTHORITY_INVALID Error or Your Connection Is Not Private.

What is NET::ERR_CERT_AUTHORITY_INVALID Error?
NET::ERR_CERT_AUTHORITY_INVALID Error is an SSL error that can be fixed by the website owner. Though there are many reasons which may trigger this error, these three reasons are mainly responsible for this error.
SSL certificate is self-signed
SSL certificate has expired
SSL certificate is issued from non-trusted sources/certificate authority
SSL (Secure Socket Layer) certificates secure network communication made between a web browser and a website with encryption. Many times, compromised certificates may be used by hackers to target trusted sites, which may cause such errors. Hence, these error warnings should be taken seriously to prevent further damage.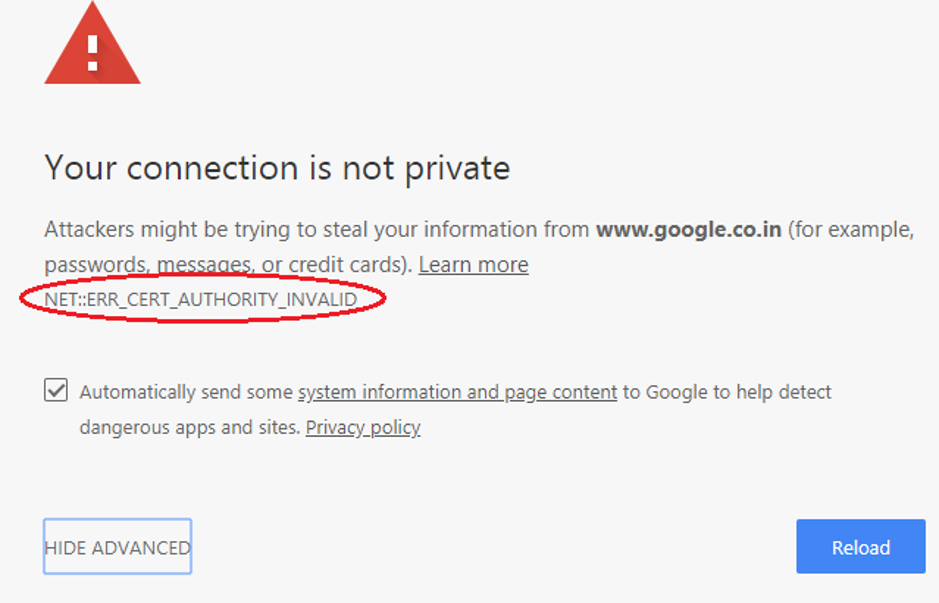 Image source: stackoverflow.com
If you are a website owner:
Being a website owner, NET::ERR_CERT_AUTHORITY_INVALID Error OR Your Connection Is Not Private specifies that the Chrome browser does not have trust in your SSL certificate, and it finds it suspicious.
You put in a lot of effort into attracting visitors to your website, and when such SSL errors pop up, it not only distracts visitors away from your site but also affects your business finances. Your site loses on to loyal customers, which in turn affects business sales too.
Suggestions:
Buy SSL certificate for your site from another trusted CA.
If you have a limited budget and are using a self-signed certificate issued by the server, they will not be trusted by browsers because CA does not issue them. Choose for any reputed brand and make the necessary changes to resolve the error.
Comodo PositiveSSL is available at USD $8/yr, which is quite economical. Few other brands, too, have attractive rates to offer.
If you are a website visitor
First, the best option is to inform the website owner about the error by sending an email, along with a screenshot of the error. There is a possibility that the owner is unaware of the error warning.
Next, never visit such websites, because such SSL errors depict that SSL is not functioning correctly, which means there is no encryption. That's dangerous because it is a direct entry for hackers who are already accessing the site and its data.
There may be a few more reasons for NET::ERR_CERT_AUTHORITY_INVALID error to appear. Let's check them out for error resolution.
How to Fix NET::ERR_CERT_AUTHORITY_INVALID error Google Chrome?
#1. Check the date and time:
Check whether the system date and time are correct or not. If it is incorrect, modify the appropriate date and time by clicking the time on the right-hand corner of your laptop/pc and enable set time automatically.
#2. Update your Operating System and browser:
An old operating system or non-updated browser may lead to NET::ERR_CERT_AUTHORITY_INVALID error, since it may not support the new version of SSL encryption algorithm.
Download the latest operating system, and update your browser, to minimize the chances of error.
#3. Restart your Wi-Fi router:
Sometimes a minor technique can solve your issue. If your network connection is inactive, it may cause error pop up. Re-check your network connection; turn it "On" if it is in "Off" mode, and if it's already active, switch it "Off," and later switch it "On" to resolve your problem. Restart your computer and check if the error is resolved or not.
#4. Clear Browser Cache and Cookies:
Expired cookies or browser cache may cause error issues. To check if they are causing this error, open your website in incognito mode.
The shortcut key to open your incognito window in Chrome is Ctrl+Shift+n. If your website is working correctly in incognito mode, then it means that browser cache and cookies are causing problems.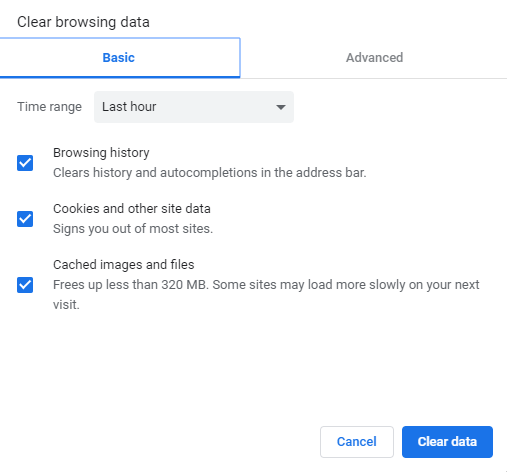 Steps to Clear Browser Cache and Cookies
On your computer, open Chrome.
On the top right, click More tools > Clear browsing data
At the top, to delete everything, click "All time" in Time range
Tick "cookies and other site data" and "cached images and files"
In the end, Click Clear data.
Restart your computer and check if the error is resolved or not.
#5. Deactivate Chrome Extensions:
Browser extensions sometimes cause SSL errors, and deactivating them is the solution to solve the error.
Steps to deactivate browser extensions:
In Chrome browser, click the top right menu
Go to More Tools > Click Extensions
Deactivate them by turning them off one by one and later try opening website.
Check if the error is solved or not.
#6. Check Anti-virus / Firewall:
Many times, anti-virus software comes in the way of SSL security as it blocks HTTPS sites.
Turn off HTTPS scanning/SSL scanning from the setting menu of Antivirus software.
If the HTTPS scanning option is not there then, turn "Off" anti-virus and firewall for a while, though it's a risky move. Re-open the site and turn "On" the anti-virus software and firewall again, post-error resolve.
#7. Get SSL certificate from trusted Certificate Authority: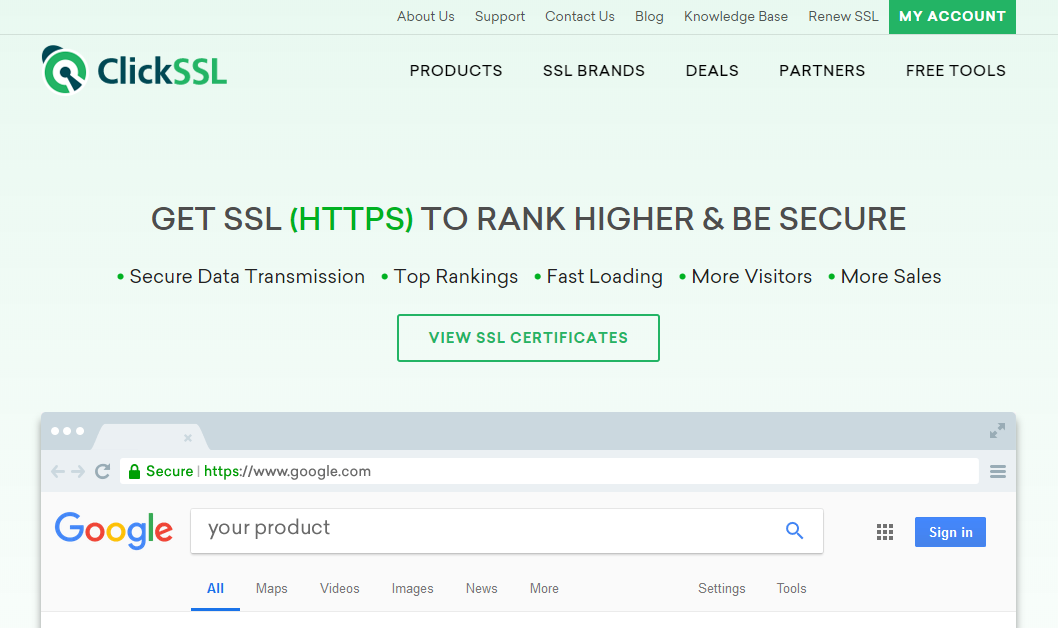 Many times, SSL certificates purchased from untrusted CA are gateways for phishing attacks and cyber-frauds. Cyber-criminals use these SSL certificates for making proxy websites of popular business sites. Always get an SSL certificate from trusted authorities like Comodo SSL, RapidSSL Certificate, Thawte SSL, GeoTrust SSL etc. to secure your business from these fraudsters.
#8. Proper installation of SSL certificate:
Improper installation may cause ERR_CERT_AUTHORITY_INVALID error in Chrome, which may cause interruption of work too.
If you are unable to install the SSL certificate properly on your website, you can take expert help or outsource the SSL installation process. Since these experts are familiar with the latest SSL trends, they can guide you regarding the proper installation of SSL, thus minimizing the chances of error.
SSL installation guides are also available, which may provide appropriate guidance regarding the same.
#9. Check for SSL certificate expiry date:
In your busy routines, you may happen to miss out on the SSL expiry dates, which may cause such browser errors. There may be a few reasons for the expiry of SSL.
The website owner has not enabled 'auto-renew enabled' with the SSL certificate provider.
If 'auto-renew is enabled,' but a site owner does not make payment.
A site owner ignores email notification from SSL provider about SSL certificate renewal.
The website owner has used a free SSL certificate whose expiry is due every 90 days.
To check the expiry date of SSL certificate in website:
Click on Chrome menu (3 dots) and go to More Tools > Developer Tools
Select the Security tab and click View Certificate
Here you can view all the information about the SSL certificate like the type of SSL certificate, certificate issuer name, certificate validity period.
If the certificate has expired, renew the same, and solve your error.
Conclusion for NET::ERR_CERT_AUTHORITY_INVALID Solution
Though ignoring the SSL error and opening the site is always an option, it's a temporary option and not a permanent solution. Hence go for the above solutions one-by-one until your NET::ERR_CERT_AUTHORITY_INVALID Error is permanently fixed and your browser free from all errors. Good Luck!!
Related SSL Errors