Everything you need to know about Microsoft Exchange Server SSL Certificate
Do you know how important it is to secure your Microsoft Exchange Server with SSL? Probably not because there is very little being discussed about it and so in this article, we shall elaborately discuss everything there is to know about Microsoft Exchange Server and Exchange SSL Certificate.
What is Microsoft Exchange Server?
Microsoft Exchange server is an email client that was initially developed for Microsoft's internal communications but was then made available to customers. Most organizations use it as part of their IT Infrastructure for security purposes. It allows the organization to centralize formal electronic communication, which can then be backed up from time to time.
Not to mention, it offers more storage than most other webmail service providers out there. If you aren't sure of what webmail means, then it's an application designed to operate through the browser. So, you don't have to download an application and install it on your PC or device – for instance, Gmail and Yahoo mail.
On the other hand, email clients such as Microsoft Exchange Servers must be installed on a PC or mobile device or must be accessed as a SaaS solution. Either way, it is the application that then interacts with the remote server, through the internet and this is precisely why we are discussing Microsoft Exchange Server and SSL Certificates.
Why is SSL Required for Microsoft Exchange Server?
It is always better to use the Microsoft Exchange Server SSL certificate because doing that ensures secure transmission of data. So, you need the Microsoft Exchange Server SSL certificate to be configured while using services such as Outlook Anywhere, ActiveSync, Cutover Migration, etc.
It provides robust SHA 256-bit encryption which makes data illegible to anyone other than the intended recipient. Since business communication involves the exchange of confidential information, businesses must use it to prevent unauthorized access to the in-transit data.
So, if you have not yet installed an SSL on your Microsoft Exchange Server, then maybe it is time you applied for one. You can get one from a third-party known as the Certificate Authority (CA) and install it on the server.
UCC SSL – Best Solution for Microsoft Exchange Server
Your email communication is precious, and if you do not want that to be intercepted by cybercriminals out there, you need to ramp up your network security by installing the appropriate SSL on your email server. In this case, you might want to look for the Exchange Server SSL Certificate, also known as Unified Communication Certificate (UCC certificate).
The UCC SSL is the best solution in this case because it makes use of the strong SHA-256-bit encryption and protects multiple domains and subdomains that are associated with a particular web hosting account. Plus, it is compatible with all the versions of Microsoft Exchange Server, regardless of which device it is installed on.
As most businesses make use of multiple domains and subdomains, the UCC SSL Certificate also helps reduce the costs associated with buying and installing individual SSL certificates. So, if your website 'www.yourbusiness.com' makes use of the subdomains 'mail.yourbusiness.com' or 'smtp.yourbusiness.com', then it is all secured through this single SSL certificate installed on the webserver.
Also, you can choose the level of validation based on your requirements as the Microsoft Exchange SSL certificate is available as Domain Validated (DV), Organization Validated (OV) and Extended Validation (EV) SSL certificates, all of which are protected with the same SHA 256-bit encryption. You can find the best UCC SSL certificate with many SSL providers.
How to install an SSL Certificate on Microsoft Exchange Server?
Microsoft exchange server 2013 and later versions are secure by default and come with a self-signed SAN SSL certificate. However, before installing an SSL Certificate on your Microsoft Exchange Server, you need to check the validity period of the SSL Certificate. For commercially obtained SSL, the validity is usually one year from the date of issuance. On the other hand, if you wish to continue with the self-signed, then you must know that its validity will be different.
The next important thing to keep in mind while applying for a Microsoft Exchange Server SSL Certificate is that the name of the server and the web app should be matched. Once you are through with all of this, then you need to start generating the CSR key. To do this, you first need to decide the Certificate Authority you wish to buy SSL Certificate from.
Once you have generated the CSR key and provided it to the SSL provider, they will allow you to complete the configuration process and validate the email sent to your registered email address. Once you verify it, the certificate authority issues a certificate that you need to install on the exchange server. Now, it is time to move on to complete the pending certificate request.
Steps to complete pending certificate request
Step #1. Navigate to the Microsoft Exchange Admin Center and choose the 'Certificates' under the Servers option.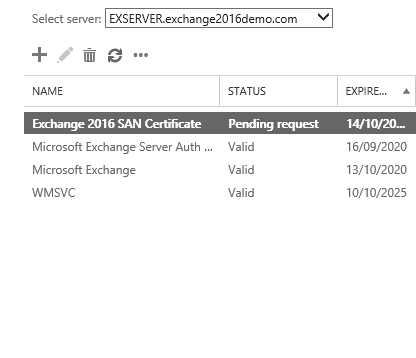 Step 2. Click on the record with the status as 'Pending Request' and while that record is selected, click on the 'Complete' Option.
Step 3. Next, you need to set the UNC path and click OK.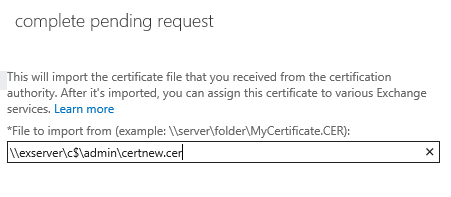 Step 4. Once it is successfully complete, then you will see the status updated on the Admin Center.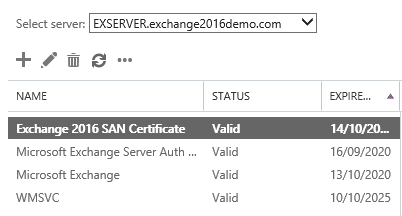 Once the certificate is valid then it is time to move on to the next phase, which is assigning it for the required exchange protocols.
Steps to Assign Exchange Services
Step 1. In the Admin Center, navigate to 'Certificates' under Server option.
Step 2. Use the Edit option to select the services.
Step 3. Select the desired services and you are done.
Conclusion
As mentioned, you must make use of a Microsoft Exchange Server with an SSL Certificate that is configured correctly. Doing this can help prevent numerous cyberattacks and ensure a more secure and closed ecosystem by thwarting unauthorized interception and potential misuse of data.
Related Post: