Extended Validation SSL certificate or EV SSL certificate provides the highest trust level and is the industry standard for eCommerce websites.
In this article, I will brief you about what is Extended Validation SSL Certificate, its functioning, its benefits, and why it is preferred over DV SSL or OV SSL.

What is Extended Validation SSL Certificate?
Extended Validation SSL Certificates, popularly known as EV SSL certificates are premium digital security certificates, which are issued by Certificate Authority post diligent vetting of the website, company owner, and business. Medium enterprises and large corporates mostly use them.
High-profile brands and online companies love to secure their websites with EV SSL, which proves to be an effective shield against phishing attacks. Thus, online shoppers are likely to trust sites with EV SSL for submitting their sensitive information. They come in different validations, each validation provides different trust levels. Domain Validation (DV) SSL, Organization Validation (OV) SSL, and Extended Validation (EV) SSL.
Extended Validation SSL provides the highest level of security and hackers are unable to grab EV SSL (for their domain) to carry out phishing attacks. EV SSL also helps differentiate fake websites from original ones.
How do Extended Validation SSL Certificates Work?
After the above verifications are done, and the results are positive, an EV SSL certificate is issued to the company. It not only prevents phishing attacks but also plays a key role in imbibing trust in customers due to its thorough vetting process.
All sites having an SSL certificate installed on them show HTTPS in the URL and padlock in the address bar. But Extended Validation SSL sites display the organization name when any customer clicks on the padlock, which immediately assures them about the legitimacy of the site.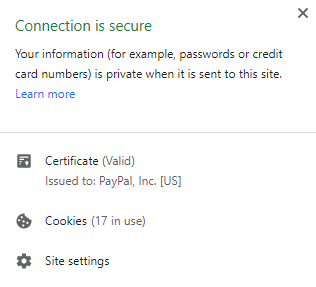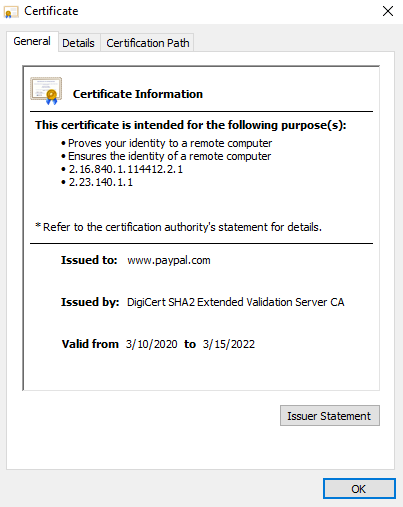 Extended Validation SSL Certificate Features and Benefits
It provides robust encryption security of 256-bit SSL encryption and 2048-bit CSR encryption.
It gives the highest level of validation because of its stringent vetting process.
When the padlock is clicked, the organization's name and address are visible.
The business details and the Certificate Authority name are displayed to validate the legitimacy of the business and ensure that it is genuine.
It helps boost customer confidence and SEO ranks.
A dynamic site seal is visible on all pages of the website, which acts as a trust indicator.
EV SSL secures all www and non-www Fully Qualified Domain Names (FQDN)
It supports 99% mobile, operating system, and browser compatibility.
It provides high warranties, free server licenses, and unlimited re-issuance for life.
It offers 30-day money-back offers and 24/7/365 customer support help to solve client queries.
Extended Validation SSL helps increase customer confidence, conversion rates, and loyal customers.
How is Extended Validation (EV) Different from DV and OV?
"How are DV, OV, and EV different, when all the 3 validations provide the same levels of encryptions?"
I have been asked this question ample times. And the answer is that though encryption levels are the same, there are significant differences between all these validations. Let's check out a few of them.
Verification and Authentication:
Its verification process is more rigorous than DV SSL or OV SSL. The same has been explained in detail in the latter part of the article.
Issuance Time:
EV SSL certificates take 1-5 days for issuance, which is high as compared to DV SSL (issued in a few minutes) and OV SSL (issued within three days).
Usage:
Mainly large corporates, e-commerce industries, and financial institutions opt for EV SSL, whereas small and medium businesses prefer DV SSL and OV SSL.
Warranty & Cost:
EV SSL certificates are costly and come with huge warranties adding to millions of dollars. In contrast, DV SSL and OV SSL certificates are comparatively cheaper in costs as well as warranties.
Visibility of Company Name:
Sites having EV SSL display the company name when the padlock is clicked, whereas this option doesn't hold valid for DV SSL or OV SSL.
The only drawback is that the Wildcard Option is not available with EV SSL.
Who Should Use Extended Validation SSL Certificates?
Extended Validation SSL Certificates are mainly popular amongst those businesses which thrive for trust visibility as well as an assurance of identity. The reason I didn't mention strong encryption is that all validations of SSL give the same encryption security.
Businesses that need strong protection against phishing attacks, like public websites (banks, health care industries, financial institutions), large corporates, and e-commerce industries, tech-savvy companies, and Fortune 500 companies generally opt for EV SSL certificates for their website and client data security. In short, all the powerful and financially strong businesses opt for this certificate.
Since threats and data breaches are on the rise due to the COVID-19 pandemic, sites that store customer data and collect online payments need customer credence for the same, and who gives better trust indications than EV SSL certificates?
Extended Validation (EV) SSL Certificate Cost
ClikSSL is a trusted SSL reseller that offers EV SSL certificates at the cheapest price from trusted brands. The most popular ones are:
How To Get EV SSL Certificate?
The applicant needs to apply to the Certificate Authority for buying the EV SSL certificate. Though the verification process is stringent, it mainly rotates around three essential criteria.
Domain ownership verification
Company verification
Individual Identity verification
Let's peep a bit into the verification process, for further clarity.
Verification Process of Extended Validation SSL Certificates:
Different validations have different security checks done by CA.
Example: In DV SSL, only the domain name is verified by the CA, whereas in OV SSL, the organization name including the domain name is confirmed by the CA.
Before issuing an EV SSL, CA's check the legitimacy of the business, based on the disclosure of business information done by the business owner, apart from business verification, they do telephonic confirmation to verify the owner's identity. They also check the domain name by vetting the same with the WHOIS register.
Stringent authentications and verifications are time-consuming and hence the issuance time of an EV SSL is 1 – 5 business days.
In a nutshell, the CA/Browser Forum follows a 7-step process, before the issuance of an EV SSL.
EV Registration: To ensure that the person who has requested the EV certificate is an employee of the company and is authorized for the same.
Organization Authentication: Legal and active status of the organization on the address registered by the applicant.
Operational Aliveness: To verify that the organization has existed for more than three years.
Physical Address: To verify the physical address with the registered address.
Telephonic Verification: To verify that the phone number is registered with the company and is active.
Domain Verification: To verify that the domain name mentioned in the certificate is registered with the applicant company/individual.
Final Call: To call and confirm the application for requesting an EV SSL certificate.
Once the entire verification process is over, the EV SSL certificate is sent via email to the registered email, and the applicant can install the same on their website.
The best protection against all "F's", i.e. fake websites & fraudsters, EV SSL is indeed an efficient and effective way to secure your business site. Customer Trust, Customer Confidence, and Conversions go hand in hand, and EV SSL is undoubtedly responsible for increasing company sales by creating continual loyal customers.
Related Post: