As there are various types of SSL certificates available, therefore it is quite difficult to select the proper certificate that suits your business requirements. If you are the owner of an eCommerce business and looking for the best SSL certificates that not only secure your website but also fulfill your requirements. This article will tell you about which SSL certificate is right for your eCommerce Business.
E-commerce With Huge Traffic
Do you own ecommerce business that generates high amount traffic and handling huge volume of online transactions? You should choose an SSL certificate product that combines security as well as business validation and offers strong encryption with huge warranty amount. Below is an example of SSL security that best suits to such website.
Suggestion:
GeoTrust True BusinessID with EV is a best-matched certificate for heavy traffic website. When you install EV certificate it turns address bar into a green bar that shows the highest legitimacy of a website. It encrypts user's data with 256-bit encryption. The certificate comes with GeoTrust site seal that includes company name and time stamp so that a visitor can check the details of the website and certificate. When visitors look at a green bar they can easily rely on website's credibility.
E-commerce With Moderate Traffic
If your website generating moderate traffic and handling average transaction per day. Strong encryption plus domain validation certificate with warranty is the best suitable product for you.
Suggestion:
GeoTrustQuickSSL Premium is a domain validation certificate that confirms the ownership of your domain and secures online transactions. It takesa few minutes for issuance,and it isa cost saving certificate. QuickSSL Premium also provides strong encrypted security that secure data transition, and it is ideal for small businesses and website with moderate traffic.
E-commerce Beginners
Do you run an ecommerce business that generates very few traffic? You should choose entry-level SSL security that establishes credibility of a website. Here is a perfect suggestion for such ecommerce beginners, who are looking for entry level SSL security.
Suggestion
| Products | Issuance | Offer Price | CA Price |
| --- | --- | --- | --- |
| Thawte SSL123 | 10 minutes | $33.93/yr. | $144.03/yr. |
Thawte SSL 123 confirms the ownership of domain and provides instant protection to your website. There is no need of paperwork to get Thawte SSL 123 and it is available in multiple year validity. Thawte SSL123 is an entry-level certificate, and available at a cost saving rate.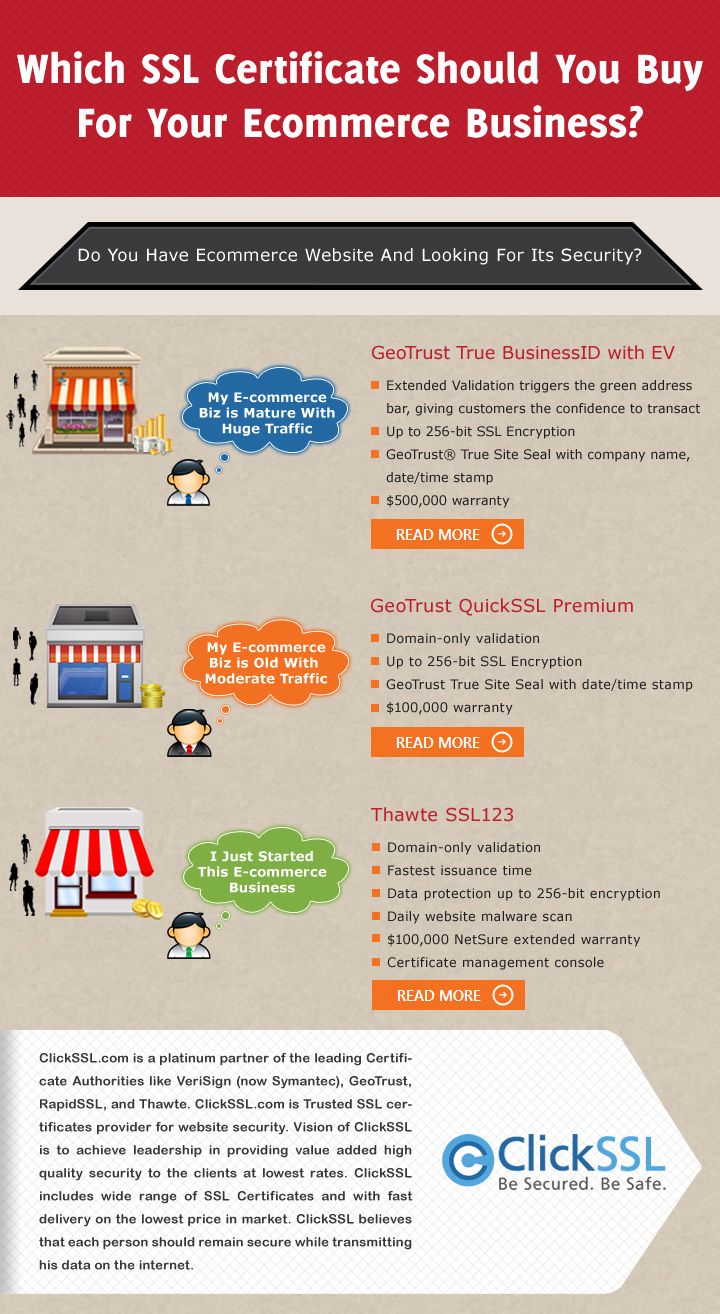 Want to publish this infographic on your own website?
Copy and paste this code into your blog post or web page:
<img src="https://www.clickssl.net/wp-content/uploads/2013/02/SSL-certificate-for_eCommerce-website.jpg" alt="Which SSL should you buy for your eCommerce business?" border="0" usemap="#Map" />
<map name="Map" id="Map">
<area shape="rect" coords="370,519,523,550" href="https://www.clickssl.net/geotrust-green-bar-ev-ssl-lowest-price" />
<area shape="rect" coords="371,726,525,757" href="https://www.clickssl.net/low-cost-geotrust-quickssl-premium" />
<area shape="rect" coords="372,979,527,1010" href="https://www.clickssl.net/discounted-ssl123-certificate-thawte" />
</map>