We are going to clear your the confusion between Code Signing Certificate vs SSL Certificate in this post.
When you decide to secure web presence, a question must have raised in your mind about customers' data security. One of the finest solutions for it, is digital certificates. Today, we will discuss about two types of digital certificate naming "Code Signing certificate and SSL certificate".
However, there is a big difference between these two words. The basic difference is SSL certificate works on website security on the other hand; software code integrity can be preserved with Code Signing certificates.
In this short piece of information, we would like to bring a major difference between these two certificates.
What is a Code Signing Certificate?
When you need to sign software, drivers, scripts, and executables, Code Signing Certificate comes into existence. When a user downloads software, it shows the name of the verified publisher, and the software code has not been altered since it is signed. If the software code is not signed, the user will get a warning while downloading the software. If the code is not signed, the system/software will throw a warning like below image: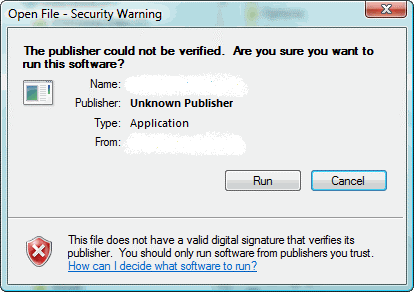 Nowadays, users become more aware of their online security as illegal or unauthorized software may cause penetration into the system. Therefore, safe download with trusted publisher is now in demand.
How Code Signing Certificate Works?
Code signing certificate is made of two keys, public key and private key.  When a user downloads software, there are two signatures generated out of which first signature is created by developer and the second one by the system. A developer generates a digital signature hashed with entire code that should be implemented with a public key. When a user downloads software, the system also generates a second signature, which should be the same as the hashed signature that is generated by a developer. The two signs match means the code is not tempered.
What is an SSL Certificate?
SSL certificate encrypts ongoing information between the server and the user's browser. No third party can intercept traveling data and thus, the information remains safe between two systems. Moreover, the certificate also verifies the identity of a business in certain types of SSL certificate like EV SSL and Organization Validation certificate. The identity verification includes phone, business's physical address and government registration details.
Types of SSL Certificates
When you decided to purchase an SSL certificate, you may have three options like:
Domain Validation: Domain Validation refers to the authorization of the domain name and does not supply owner information in the certificate.
Organization Validation: Organization verifies both domain ownership and the organization's identity as a customer can see an organization's details in the certificate.
Extended Validation certificate: Extended Validation carries the highest validation including green address bar that can allure visitors and customers about their online credential's security. It requires business-related documents as well as third-party phone directory verification before issuance of a certificate.
Difference between Code Signing Certificate & SSL Certificate:
Code Signing Certificate is for signing software code while SSL certificate is for securing a website where customers provide login or payment credentials.
The cost of a SSL certificate is much lower now days compare to Code signing certificate. Domain validation certificate can be easily available at cheap price in the market.
SSL certificate encrypts ongoing data between the server and the user's browser so the third party cannot intercept the information. Code signing certificate with hash signs executables, drivers, software but does not encrypt the information. Hash is like marking a seal on the software.
The another difference between SSL and Code signing is time stamping like if an SSL certificate expires, the browser shows warning until it is renewed. While a developer adds timestamping in Code Signing that keeps the digital signature active, even the certificate expires.
Website owners use SSL certificate while developers to sign code use Code signing certificate.
If we talk about warranty then most certificate providers, offer warranty on SSL certificates while in the case of Code signing certificate, DigiCert group companies offer a warranty.
Code signing certificate serves platforms like Adobe AIR, MS Authenticode, Mac, MS Office and VBA, Sun Java, Silverlight, Windows 8/10, Mozilla while SSL certificate secures domain name.
Code signing certificate assures users about code integrity while SSL certificate ensures online transaction security that takes between the server and the user's browser.
At Last:
We can say that rising software trend, as well as website security, demands SSL protocol and digital signature so users could get maximum protection. Above comparison also shows the value and importance of both certificates in their respective manner. Assure users by delivering authenticate code as well provide 256-bit strongest website security with SSL certificate.