Step by Step Guide to Enable SSL Certificate on Magento 2
Magento is a leading eCommerce platform that comes with plenty of great features, including open and flexible architecture, engaging shopping experiences, secure payments, and easy maintenance and upgrades.
However, securing your data while using the platform to conduct business is a totally different thing. As per Sucuri's data, Magento is among the top commonly infected CMS platforms.
So how do you avoid this issue? One way is to install an SSL Certificate on Magento 2 that will secure data in transition.
Does it ensure that your site will never be hacked? The answer is no.
Having said that, the SSL certificate does bring tight security by encrypting the data transferred between the server and the browser and that's the reason top most eCommerce websites believe in EV SSL certificate.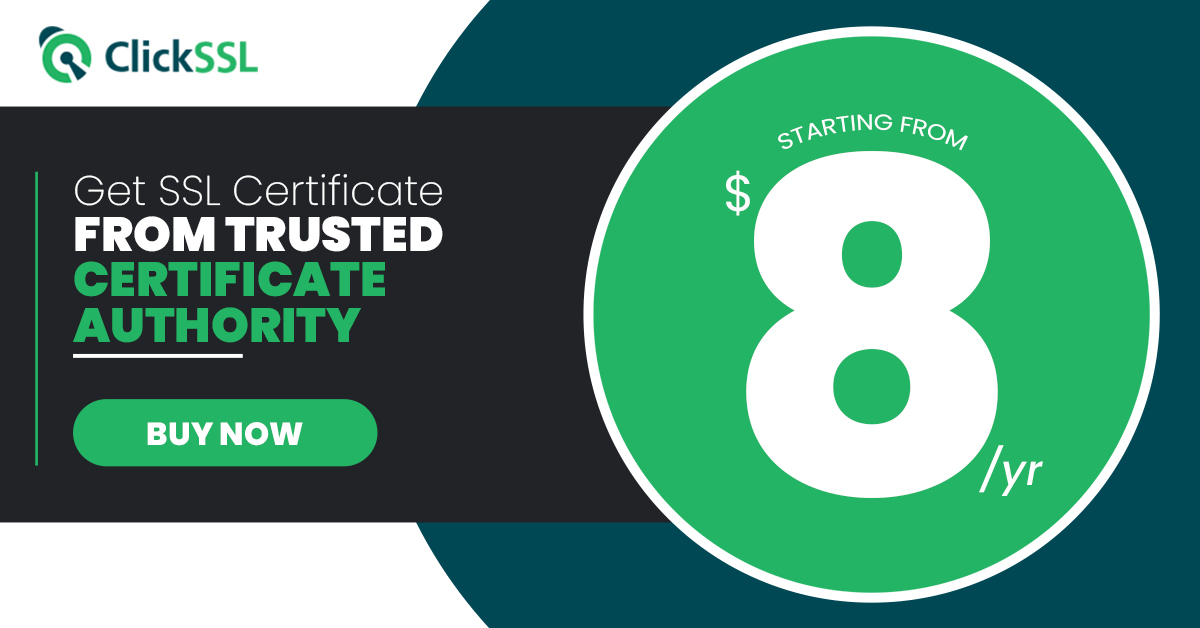 In this article, let's look at how to enable an SSL Certificate on Magento 2. But before that,
How can Magento 2 SSL Certificate Protect Your Online Ecommerce Store?
Supposing a browser is trying to gain access to a Magento store protected by SSL- an SSL link will be generated by the browser and the web server via the process, which is known as SSL Handshake. Next, it links to a web server that is protected with the Magento SSL certificate.
As the server recognizes the browser request, it verifies the root of the certificate to ensure it is from trusted Certificate Authorities. It will also ensure that the certificate is still valid. Again, it checks the validity of the common name for the exact Magento store. Supposing that the browser trusts the certificate, a symmetric session key will be sent back after it will build and encrypt it, making use of the public key.
Magento eCommerce platforms have always been the target of hackers since it is used by customers for transferring money, and it contains valuable personal data. So, to install SSL on Magento 2 is mandatory.
Moreover, when you use an SSL certificate, the chances of ranking your site ahead of your competitors on Google's search engine is high. And it gains the trust of your customers when you display the green padlock or trust seals on your server, ultimately leading to driving sales.
How to enable an SSL Certificate on Magento 2?
Now coming to enabling an SSL Certificate on Magento 2, the process is quite simple.
You can follow the guide below to install the certificate and provide security to your data and your user's data.
Step #1. Go to your Magento 2 Dashboard and log in. Next, navigate to Stores > Configuration.
Step #2. Go to the "General Menu" and click on the "Web" option: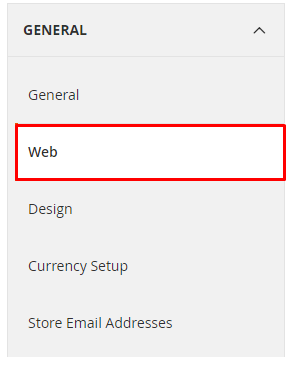 When you click on the web, you will see the settings page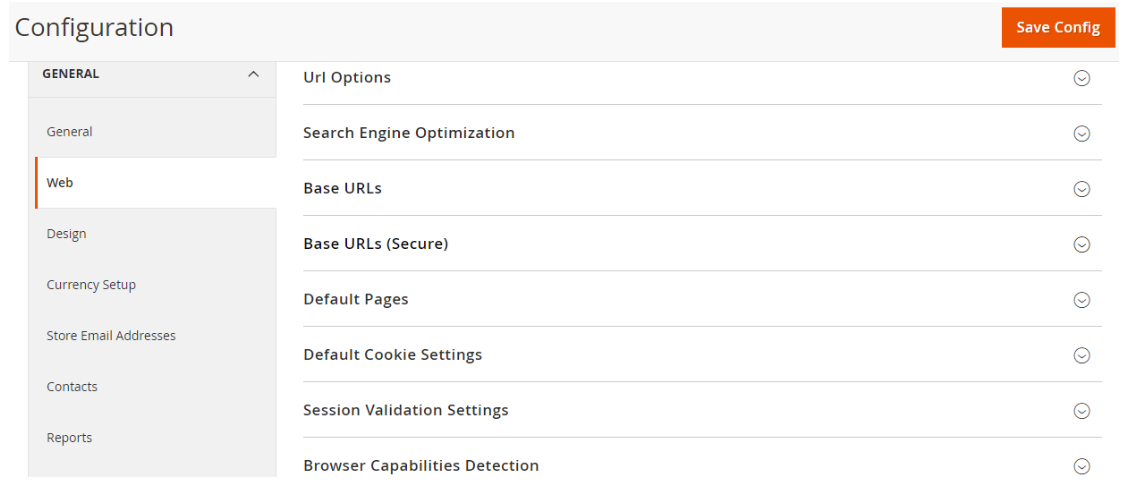 Step #3. While on the settings page, choose base URLs (Secure) and edit the Secure Base URL field by altering http:// to https://

Go to the 'Use Secure URLs' in Storefront and choose 'yes' option to enable all storefront pages accessible only by https:// or SSL Certificate.
Now, go to the 'Use Secure URLs' on Admin and choose 'yes' from the drop-down to enable the administration interface accessible only by https:// or SSL.

Step #4 To save the settings process, click on 'Save config.'
Congratulations! You have successfully enabled the SSL Certificate on Magento 2.
Installation of multiple Magento SSL Certificates on a single server?
Most of the Magento hosting providers will permit only a single SSL protected website on a server. Therefore, if you have a desire to host another SSL Magento website, you'll require another server altogether.
Things to Remember While Migrating Your Magento 2 Store to HTTPS
Both your internal and external links should be headed in the direction of your new HTTPS URLs.
Do not direct store's canonical Tags (i.e. "rel" tags) to HTTP version because it lets Google to decide your search engine rankings. Therefore, it is wise to shift canonical tags to HTTPS.
Direct your Magento2 sitemap towards HTTPS URLs before the migration.
Troubleshooting Tips
If your Magento SSL fails to work on the frontend, most probably, it is because the Magento SSL for a frontend has not been enabled.
If you want to resolve this issue, then go through the admin panel of your store to search for the Base URL section. Then, find Use Secure URLs in Frontend and change the status from No to Yes. Your problem will be resolved.
Where to buy an SSL certificate for your Magento 2 Store?
Here are some trusted brands where you can obtain your SSL certificate at lowest price with ClickSSL:
Winding-Up
SSL certificates are mandatory if you want to secure the data you exchange in your eCommerce platform. Moreover, Google is urging webmasters to migrate to HTTPS or face the risk of losing rankings in search engines.
And even visitors those who are concerned about website security will be reluctant to visit a site which shows warning signals of 'not secure.'
Hopefully, this guide will enable you to successfully install SSL on Magento 2 and allow you to conduct a safe business while driving sales and boosting your brand reputation.
Remember, installing an SSL certificate does not imply that your site will never be attacked. But it provides the highest form of security and builds trust.
Other Installation Guide