Comodo and Godaddy both provide trusted SSL certificates but when it comes to choosing one we need to compare the price and features of both the SSL provider.
Cybersecurity threats are growing due to increased usage of the internet and digitization. As a result, more businesses are looking to secure experiences for their users, which is why we see an increase in their spending on security measures. According to McKinsey, enterprises are set to spend more than $101.5 billion by 2025 on security measures.
So, how to stay ahead of your security budget?
One way to ensure your security budget does not skyrocket is to choose the right tools and measures. For example, choosing the right SSL certificate for your websites can mean optimized security and reduced cost. SSL or Secure Socket Layer is an encryption-based technology that helps secure communication between the end user's device and the website server.
Several Certificate Authorities (CA) provide excellent options. However, it is essential to compare them and choose the right one for your business. For example, Comodo and GoDaddy are trustworthy CAs that provide SSL certificates with enhanced features.
Therefore, choosing between a GoDaddy and Comodo SSL certificate can be tricky!
However, fret not; here we are with a comprehensive comparison between the two!
Comodo vs GoDaddy SSL Certificate: An Overview
Comodo and GoDaddy SSL both provide high-end security features for your websites. However, there is a differences in SSL certificate cost, features, and more. So, let us look at the comparison.
Comodo SSL certificate
Comodo is one of the leading CAs worldwide that provides SSL certification services. It provides many SSL certificate options at competitive pricing and high-end features.
The best thing about Comodo SSL certificate costs is that they are cheaper than many other CAs. Trusted by more than 99.9% of internet browsers, it offers the highest browser recognition in the market.
Comodo provides SSL certificates for different types of use cases. For example, if you want to install an SSL certificate for your blog, social websites, and informative and personal sites. Domain Validation (DV) is the lowest level of SSL type in the Comodo SSL certificate category. This is because it validates the requestor's identity through domain verification.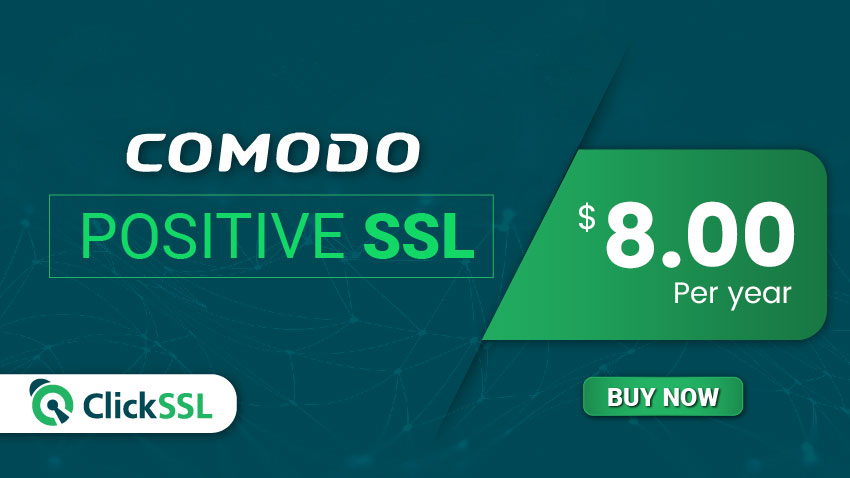 GoDaddy SSL Certificate
GoDaddy has been in the business of secured hosting services for 20 years, and providing SSL certificates is a part of its service portfolio. GoDaddy provides an SSL certificate for users across 50 countries with 24/7 support. However, one major difference that makes GoDaddy a less attractive option is its pricing.
It does have premium pricing despite providing similar features to Comodo's offering. One of the reasons why the GoDaddy SSL certificate cost is higher is its authenticity. GoDaddy is one of the founding members of the CA/Browser Forum, which provides guidelines for web application security.
Now that we know, both the certificate authorities let us have a side-by-side comparison of the key features.
Comodo and GoDaddy SSL certificate Comparison
Security features are essential for your website. For example, an SSL certificate ensures that all the data exchanged between a user's device and your web server stays anonymous to hackers. This is achieved through the 2048-bit encryption strength that both Comodo and GoDaddy SSL certificate process offers.
Features
Comodo SSL Certificate
GoDaddy SSL Certificate
Types of certification
Domain Validation(DV)

Organization Validation(OV)

Extended Validation(EV)

Domain Validation(DV)

Organization Validation(OV)

Extended Validation(EV)

Encryption strength
2048-bit encryption
2048-bit encryption
Length of encryption key
256-bit
256-bit
Algorithm type
Secure Hash Algorithm 2
Secure Hash Algorithm 2
Support
24/7/365
24/7/365
Warranty
$250,000
$10,000
Browser compatibility
99.9%
99.9%
Cost
$8 per year
$69.99 per year
As you can see, one of the biggest differences between Comodo SSL and GoDaddy SSL certificates is pricing. Comodo certificates are available at $8 per year while Godaddy certificates are available at $69.99 per year which means Comodo SSL is six times cheaper than GoDaddy's offerings.. Apart from that, the Comodo certification process also provides a higher warranty amount for your website.
These are some key differences but if you are worried about which one will suit your requirements, here is how to decide.
Comodo vs GoDaddy SSL Certificate: Which one to choose?
Wildcard SSL Certificate:
When you want to secure unlimited subdomains and the main domain, you will have Comodo and GoDaddy wildcard SSL certificates. Both brands offer strong encryption to the main domain and its first level of subdomains.
However, if you want to secure multi-level wildcard domains and their subdomains then, Comodo can do a great job here. GoDaddy does not offer multi domain wildcard SSL certificate so Comodo wins the game. To purchase multi domain wildcard with GoDaddy, you need to purchase two different certificates like wildcard SSL certificate and multi domain SSL certificate.
The other difference is GoDaddy SSL certificate renewal prices are a little higher compared to Comodo SSL certificates. Comodo does not differentiate between new and old customers.
Multi Domain Excellence
A multi domain wildcard SSL certificate from Comodo is enough to secure multiple domains and subdomains. This means you do not need to spend for two different certificates.
Another key difference between GoDaddy SSL certificates and Comodo's certificates is the number of server licenses. While you get unlimited multi domain SSL server licenses from Comodo, GoDaddy provides only one server.
Similarly, you get only one server license from GoDaddy for the wildcard SSL certificate. On the other hand, Comodo offers an unlimited server license for wildcard certificates.
Reissuance of certificates is another key difference between the two CAs. Comodo SSL provides unlimited SSL renewals for your certificates, which is not a feature of GoDaddy's offering. GoDaddy charges users for certificate renewal compared to Comodo's unlimited reissues.
Conclusion
Lastly, your website helps in determining the right option. For example, if your website is for a specific campaign that will end after a period, GoDaddy is ideal. However, the Comodo SSL certificate is best for comprehensive security and unlimited reissues. It is also cheaper than GoDaddy, allowing you to keep the security budget optimized.
Other Comparison Post