Wildcard SSL Certificate is best security certificate for sub domain website. Learn more about Wildcard certificate in this post.
Wildcard SSL certificate works on asterisk (*) and a dot before the domain name (*. domain. com). The certificate secures the primary wildcard domain and its first level of subdomains.
All subdomains will have the same security level, including the main domain. Wildcard certificate comes with a domain and organization validation process.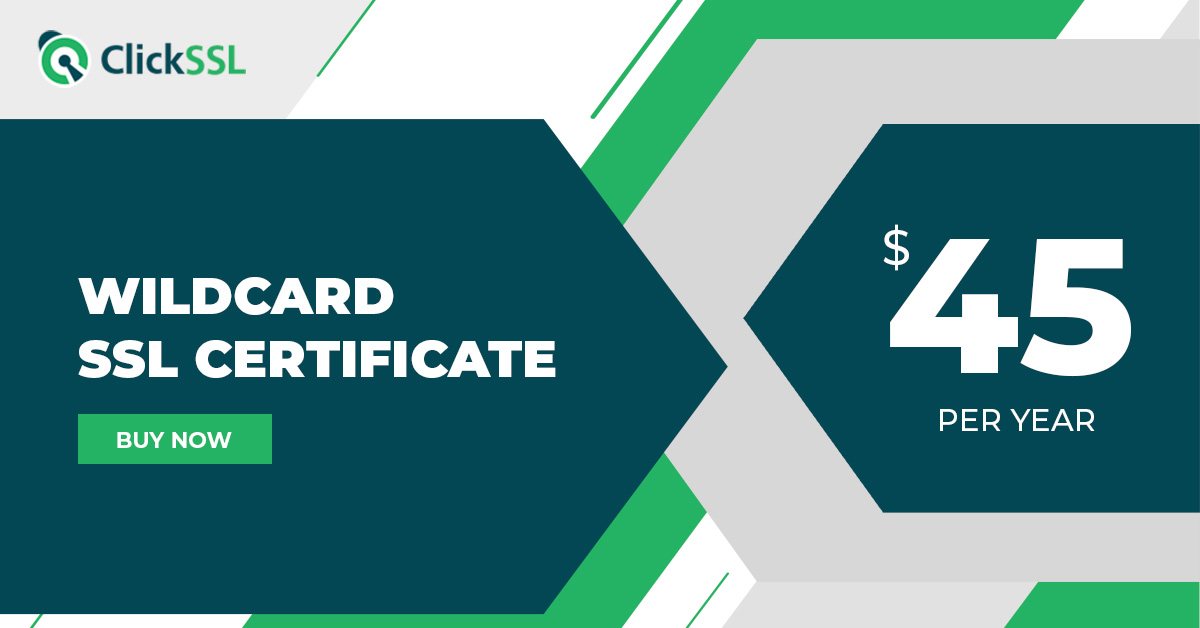 What Does Wildcard SSL Certificate Works?
Wildcard SSL certificate considers an asterisk to add unlimited subdomains under the main domain.
In the future, if a business wants to add more subdomains, it can be covered under a single wildcard SSL cert that requires no reissuance while adding an extra subdomain in the hierarchy.
Suppose you are running a business and require subdomains security then; you can go with a wildcard SSL certificate that works as shown below:
For example, your primary domain is *.yourbusiness.com.
blog.youbusiness.com
mail.yourbusiness.com
payment.yourbusiness.com
If you wish to secure mail.mywebsite.yourbusiness.com under *.yourbusiness.com, which will not be possible as a wildcard SSL certificate only secures the first level of subdomains.
For mail.mywebsite.yourbusiness.com, you need to purchase another wildcard SSL for *.mywebsite.yourbusiness.com
If you do have not a budget constraint, you can also go with a multi-domain wildcard SSL.
Why You Need Wildcard SSL Certificate?
Wildcard SSL certificate is a boon for those enterprises who need subdomain security but at a budget price. If you purchase a single separate certificate for each subdomain, it would be a costly deal for a business.
Instead of a single purchase, a company can think about an SSL Wildcard certificate that is ideal for unlimited subdomains' security.
Moreover, there is no reissuance necessary when you add an extra subdomain under the main domain.
Wildcard SSL certificate Benefits
#1: Save Your Cost:
Saving a cost is one of the essential benefits of a wildcard SSL certificate. The certificate can secure multiple subdomains under a single certificate without requiring a separate SSL certificate to secure each subdomain.
#2: Easy Management:
Wildcard certificate offers seamless certificate management where a single date is required to renew all first-level subdomains. It means there are negligible chances of missing renewal dates.
#3: Strong Encryption:
All data traveling between the server and the client will have robust encryption with a Wildcard certificate. Cyber thieves cannot intercept ongoing communication between two ends.
#4: Money-Back Guarantee:
ClickSSL understands the perception of a buyer; hence, it offers a 30-day money-back guarantee. A purchaser has the right to take back all money if he is not satisfied with the purchased product.
#5: Subdomains Security:
All wildcard subdomains will have strong SHA-256 security that keeps cyber thieves away from online communications. *.yourdomain.com can secure its subdomains like payment.yourdomain.com, mail.yourdomain.com.
How Much Does Wildcard SSL Certificate Cost?
The cost of a Wildcard SSL certificate starts from $45 per year. The price of a Wildcard certificate is different according to the SSL provider. It will go up to $330.37 per year
How Do I Get a Wildcard SSL Certificate?
Follow these simple steps to get your Wildcard SSL certificate.
Goto ClickSSL
Click on the Wildcard certificate product list
Select your desired Wildcard certificate
Make a payment
Recommended Reading: