Multi Domain Wildcard SSL or SAN Wildcard SSL certificate is the perfect security solution to secure multiple domains and multiple different level subdomains.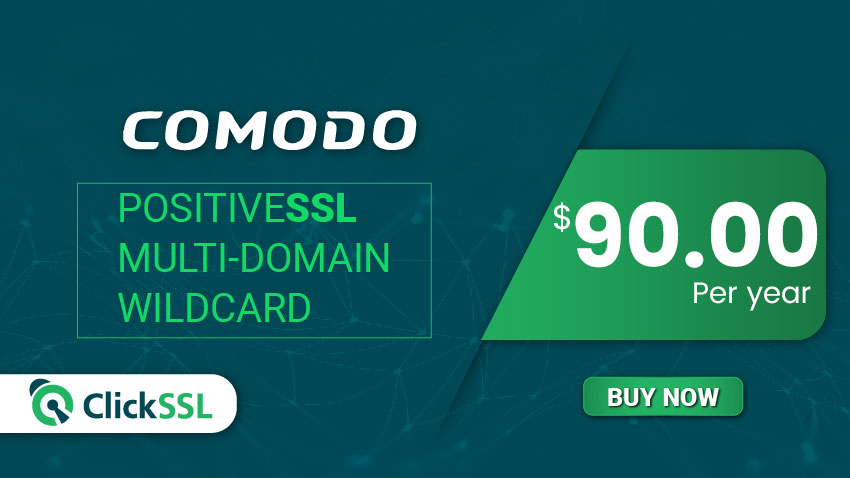 What is Multi Domain Wildcard SSL?
Multi Domain Wildcard SSL allows different domain names, subdomains, and multi-level subdomains under a single SSL certificate. It is difficult to manage different SAN domains and subdomains with separate SSL certificates hence, multi domain wildcard is a cost and time-saving certificate that eases the certificate management process.
Multi Domain Wildcard SSL certificate is available for domain validation and organization validation. In the domain validation type, the certificate takes a few minutes to issuance while the organization validation takes up to 3 days due to the verification of business-related documents.
Once you have this certificate, you do not need to reissue it while adding subdomain (i.e., blog.domain.com) the under main domain in the certificate. The reissue requires only when you want to add the SAN wildcard domain (i.e., *.domain2.com) under the certificate.
How Multi Domain Wildcard SSL Works?
Multi Domain Wildcard works like a wildcard certificate, but the difference is a wildcard covers one primary domain and its subdomains while multi domain wildcard covers different SAN domains and their subdomains as well as multiple levels of subdomains too. Let's understand it via example.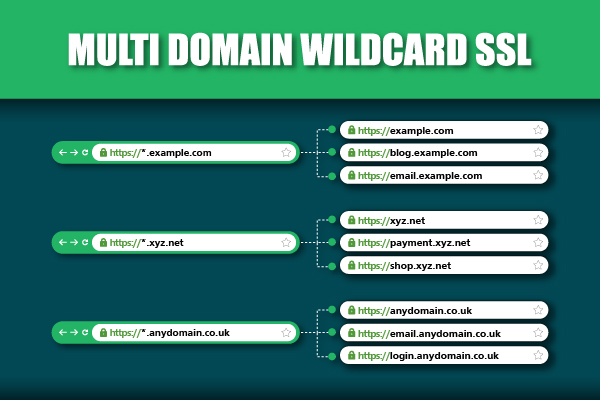 Example: Jack has varied businesses and multiple websites for all, along with multiple sub domains. He is thinking of securing all his websites, i.e. domains and sub domains in a simplified way.
Main Domain: *.domain.com can secure blog.domain.com, mail.domain.com
SAN Wildcard domain: *.blog.domain1.com, *.domain3.example.abc.com, *.mail.server.mydomain.com, can secure Subdomains like abc.blog.domain1.com, blog.domain3.example.com, a1.mail.server.mydomain.com, etc.
If we see above both wildcard and SAN wildcard, they can secure their subdomains individually. In the SAN wildcard domain, you can find different levels of subdomains that can be secured with multi domain wildcard SSL.
Moreover, the certificate offers an unlimited server license means you can install the same SSL certificate on different servers in case, the domain or subdomain is hosted on another server, or you want to change the server.
Just install Multi domain wildcard SSL and you will get the solution to this problem.
Jack has 4 websites:
https://example.com
https://xyz.net
https://anydomain.co.uk
https://blog.mydomain.com
This SSL certificate covers all these fully qualified domains as shown in the image before and all sub domains like:
https://blog.example.com
https://email.example.com
https://payment.xyz.net
https://shop.xyz.net
https://email.anydomain.co.uk
https://login.anydomain.co.uk
one.blog.mydomain.com
two.blog.mydomain.com
This certificate comes with a site seal that serves as a trust factor for customers approaching the site.
If your wildcard domains are on multiple servers, you can reissue your current SSL for the same, since it comes with multiple reissuances.
How Multi Domain Wildcard SSL differs from other SSL Certificates?
Before I share the features and benefits of this SSL certificate as compared to other SSL certificates, it is important to know the features of other types of SSL certificates and their benefits.
Example:
Single Domain SSL certificate secures the main domain of the website and hence is ideal for individual websites or small businesses.
Wildcard SSL certificate secures the main domain and multiple sub-domains of your site and is the best for medium and large enterprises.
Multi Domain Wildcard certificate on the other hand secures up to 250 different domains and unlimited subdomains. This SSL security is used for large corporates and giant companies having many domains and sub-domains.
Multi Domain Wildcard SSL Features
Multi Domain Wildcard SSL certificate is the most adaptable SSL certificate, which secures your entire web in the best possible way.
A quick look into the features of this SSL certificate will prove that this certificate is indeed an all-in-one destination for your website security.
Available in DV and OV
Compatible with 99% of browsers and mobile devices
Inclusive of 3 domain names (based upon the provider)
Can be used on single or multiple servers
Free PCI scan device & Site Scan
Why Should You Purchase Multi Domain Wildcard SSL Certificate?
There are plenty of advantages to this SSL certificate. A few of them are stated below.
#1. Quick Issuance
It can be issued within a few minutes depending on the Validation type. Speed is a positive factor in issuing this certificate.
#2. Strong Encryption Security
It offers 256-Bit Symmetric Encryption and strong 2048-Bit RSA Signature Key for all domains and sub-domains. This powerful encryption acts as a shield against hackers, trying to penetrate your site to damage your business.
#3. Time and Money Saver
Since it is an all-in-one certificate, it saves time, money and effort as you need not opt for multiple securities to secure your website. Your entire website can be covered in a single certificate.
#4. Trust Seal
The site seal is a visual trust indicator, which is displayed on all pages of the website. This indicator indicates that the site is secured with encryption and trustworthy for making transactions.
#5. SAN Wildcard Support
This is a SAN enabled certificate, i.e. you can include additional SANs post CSR generation.
#6. In Built HTTPS and Padlock
Once Multi Domain Wildcard is installed on the site, all browsers show HTTPS in the address bar and padlock in the URL. This also confirms that the site is secured.
#7. Unlimited Server Licences and Free Reissuances
Mostly all Multi Domain Wildcard SSL certificates of popular brands come with unlimited server licenses and hence can be used for single or multiple servers. Even free reissuances of SSL certificates for life save extra money needed for securing your site.
#8. Easy Addition and Deletion of Domains
It is very simple to add and delete domains in this SSL certificate and hence is the most popular amongst large organizations.
#9. Outstanding Customer Support
All global brands of SSL certificates provide excellent customer support facilities. Customer support is offered day and night all 365 days for answering customer queries.
Even expert help is available for solving queries related to the installation of SSL and other technical details.
#10. Warranties and Money back Offers
All these certificates come with different warranties, so you can stay at ease in case you are not satisfied with the certificate.
Even 30-day money-back refund policies are available, wherein you get back your entire amount invested in the certificate if needed.
Wrapping Up for Multi Domain SSL Wildcard
This all in one website security certificate provides robust encryption, thus securing your entire web against cyber criminals. Go for it to protect your domains and sub-domains unambiguously.
Other Informative Post: