Best cheap Wildcard SSL certificate can secure your main domain and unlimited subdomain. Learn more below
According to SSL Labs, a survey on 135,500 was done out of which 49.2% of sites have inadequate security. There are still 813 sites that have insecure cipher suits whereas 2036 sites have incomplete certificate chains.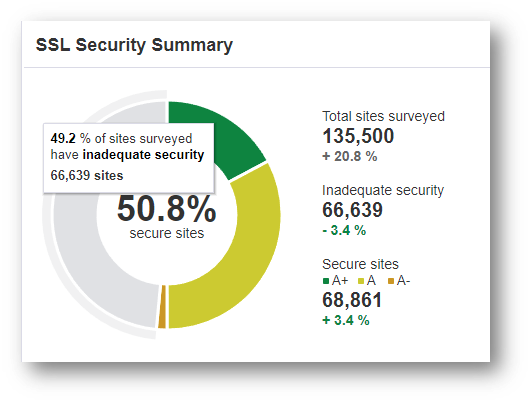 A survey from IBM also states that average cost of data breach in 202 recorded at US$ 4.24 million. Even, the global security market was valued at a CAGR of 10% growth between 2020-2027. The rising cost of data breaches and inadequate security have compelled many small businesses to shut down their operations. The risk of data breaches has been growing for a few years and it has made every business think about cyber security.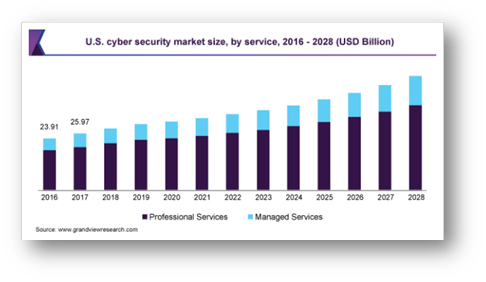 In this dilemma, the need for website security emerged, and an SSL certificate is one of the ideal security for data protection. However, there are different types of SSL certificates available in the market and in this short piece of information, we would like to discuss cheap wildcard SSL certificate provider.
Best Cheap Wildcard SSL Certificate & Providers in 2022
Comodo PositiveSSL Wildcard Certificate at $45/Yr
RapidSSL Wildcard Certificate at $96/Yr
Comodo PositiveSSL Multi Domain Wildcard at $90/Yr
Thawte Wildcard SSL Certificateat at $288.97/Yr
GeoTrust True BusinessID Wildcard at $330.37/Yr
You must procure the best cheap Wildcard SSL certificate from only the best Certification Authorities (CAs) globally. Way back in 2017, there was an instance when Google had distrusted Symantec SSL certificates. It is critical to check the antecedents of the CA before you choose the certificate for your business.
We expect our clients to be able to choose from among the numerous Wildcard SSL certificates to safeguard the business. wildcard SSL certificate cost starts from $45 which is the cheapest but still we are sharing other brands with price comparison.
#1. Comodo PositiveSSL Wildcard Certificate
The cheap wildcard SSL certificate for unlimited sub-domain security from trusted provider
Comodo PositiveSSL Wildcard certificate is able to make your website secure with HTTPS and strong encryption that never lets traveling data be exposed to cyber thieves. The client will have a strong faith in your website as it gets assurance about website security and a secured seal that shows that the data on the site is secured. You can get a cheap Comodo positive wildcard SSL at $45.
#2. RapidSSL Wildcard Certificate
Best cheapest Wildcard SSL certificate from most trusted CA (DigiCert)
RapidSSL Wildcard certificate can protect the primary domain along with the first level of subdomains. The data travels on the domain, and subdomains will have strong SHA-2 encryption that keeps the information intact. Add as many first levels of subdomains in this wildcard certificate without reissuing a certificate. Make customers happy on your website by providing them a sigh of relief with strong encryption.
#3. Comodo PositiveSSL Multi Domain Wildcard
The best cheap SSL Wildcard certificate from Comodo for multi domain and sub domain
Comodo PositiveSSL Multi Domain Wildcard certificate can cover up to 100 different domain names along with unlimited subdomains under a single certificate. A domain validated certificate requires a paperless process in issuing a certificate. Within a few minutes, you can get the certificate and install it on the server. It is an immediate assurance to a customer about the website's authenticity.
#4. Thawte Wildcard SSL Certificate
The best cheap wildcard SSL certificate to get full organizational validation
Thawte Wildcard SSL certificate verifies organization details to ensure that the business is legally registered with valid information. A website will have enhanced credibility that boosts the trust of customers. Moreover, each transaction taking place between the client and the server will have robust 256-bit encryption. It seems hard luck for cyber thieves to sniff the information between two ends.
#5. GeoTrust True BusinessID Wildcard
GeoTrust True BusinessID Wildcard certificate is an ideal solution for businesses that want to secure main domain and first-level subdomains. The business identity will be verified with thorough business documents verification and domain validation. The authority here can match business details with third-party business directory sources for extensive verification.
What is Wildcard SSL Certificate?
If you are a business with multiple subdomains, then Wildcard SSL certificates will be ideal for you. It will secure your primary domain and an unlimited number of sub-domains. It has a wildcard character in the domain name field. It is essential for a business with several subdomains to choose from one of the cheap SSL certificates.
As an example, a single certificate can cater to www.xyz.com, mail.xyz.com, store.xyz.com and many such sub-domains. The sub-domains located on the same server can be secured using the same certificate. However, if the sub-domains are located on multiple servers, the private key the certificate must be installed on each.
How Wildcard SSL Certificate Works?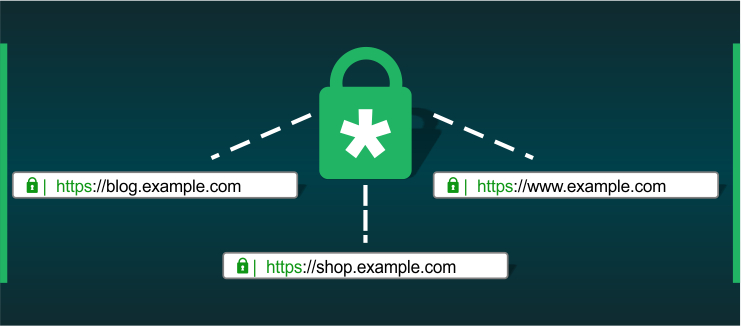 A Wildcard SSL essentially is an SSL certificate that allows the business to encrypt the sub-domains at the same level along with the main domain. It is suggested that you change the Wildcard domain names to the actual one and you may also install the certificate to more than one subdomain on a single IP address.
You must note that the private key is shared with all sub-domains across all servers on which they are installed. In the instance that the domain gets breached, the sub-domains can also get affected. Such a breach can be challenging to detect.
Benefits of Cheap Wildcard SSL Certificate
1. Better vendor management
It is critical to have a single vendor for procuring the SSL certificate when you have several sub-domains. Your IT team would not have to interact with multiple vendors or need to set up several reminders for upcoming renewals.
2. Latest technologies used
The SSL certificates utilize the latest technology to secure several sub-domains. The 256-bit encryption methodology is used to encrypt the interactions with the visitors and will help to thwart any eavesdropping by any third party.
3. Your website gains trust
Once the visitors see the padlock on the address bar, they can rest assured that you have the necessary encryption mechanism to encrypt their communication with the website. As an add-on, some of the certificates may also have a dynamic site seal.
4. Fast issuance
The Wildcard SSL Certificates are issued only after authentication of the website based on the validation levels. While the domain-validated Wildcard certificates are issued within a few minutes, the organization-validated ones are issued within a few days.
5. Easy on your budget
The Wildcard SSL certificates ensure you can secure the sub-domains with a single certificate. Moreover, even the best Wildcard SSL certificates come at a nominal cost of $45 per year.
Conclusion for Cheap SSL Wildcard
The increased onslaught of hackers has led to data breaches at some of the renowned brands leading to millions of data being affected. It becomes essential for businesses to choose from among the cheapest Wildcard SSL certificates and install one of them.
In this article, we have come with a detailed description of some of the options available for you. We sincerely hope this article will help you choose from among these certificates and secure your business.
Related Post: