Fix Secure Connection Failed error in Firefox is common but there are some ways that will help you to fix it.
When a website tries to establish a secure (HTTPS) connection with the PC. The Firefox browser checks the site certificate to make sure the connection is safe and secure. Sometimes, Firefox is not able to make a secure connection and shows a warning like Secure Connection Failed. The page also displays details of an error.

In this article, we will discuss the about methods to fix Secure Connection Failed Error in Firefox.
How to Fix Secure Connection Failed Error in Firefox?
Here is a step-by-step guide to fix this error.
Solution #1: Check your Security Software for SSL Scanning
Every security software on the market has a feature called SSL Scanning or SSL filtering. This is a feature that is designed to make sure that you do not accidentally visit a website with expired SSL Certificate (this is an algorithm that is supposed to protect your data on any website it is installed on). However, sometimes your security software could prevent you from visiting a website because it has tagged the SSL Certificate of that website as expired or invalid.
To fix this, you need to visit the settings option of whichever security software you are using and locate the SSL scanning feature of the software. Once you find it uncheck the box that indicates if it is enabled. Once you disable this feature on your security software, you should try visiting the website again.
If this error persists then you should try the next solution.
Solution #2: Change the SSL Setting of Your Firefox browser
Step #1: The first thing you need to do is type in the address bar of your Firefox browser the command "About:Config"

Step #2: A pop-up box should show up with the warning "This might void your warranty!" click on the option I accept the risk!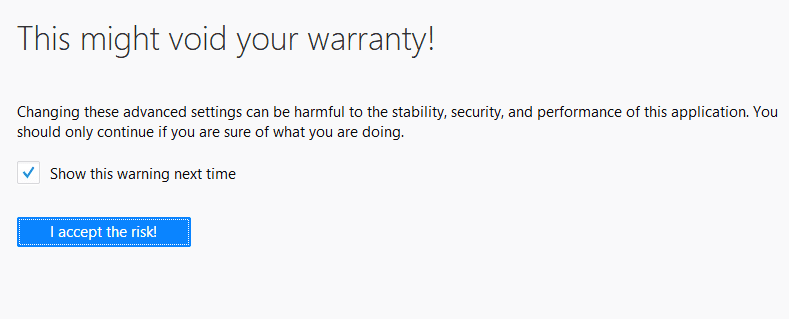 Step #3: In the search box that comes up, type the words "security.ssl.enable_ocsp_stapling".
Step #4: The value of the new result that pops up will indicate "true." Double click on the value to change it to "false".

Step #5: Try connecting to the website that you are trying to visit and see if this has fixed the error. If this doesn't work, go to the next solution.
Solution #3: The Proxy Setting of Your Firefox Browser
When the proxy setting of your computer is not properly set to surf the internet, then you might also get this error. To solve this problem, please consider the below steps.
Step #1: On our Firefox menu bar, navigate through Tools Menu and click on the option tab.
Step #2: On the new page that shows up, navigate to the advance panel and click on the tab that is labeled Network.
Step #3: In the connection field that is open, click on the button labelled as Setting.
Step #4: A new pop-up box should appear on your screen with the title Connection Setting.
Step #5: In the connection window that you now have opened, look for Manual Proxy Connection and check if it is selected.
Step #6: If the Manual Proxy Connection is selected, then it means you will have to verify all the protocol fields by yourself. However, if you are not sure what to do about anything in this window, it is strongly recommended that you contact your network administrator.
Step #7: If the Manual Proxy Connection is not selected, then leave it as it is and close the Connection Setting Window and call your network administrator.
Finally, you should check If SSL is installed properly or not. If SSL is not configured properly then it may throw such type of error. Moreover, you should update the Firefox timely as new updates may revoke old algorithm support or other security changes.
Related Post: