SMS Spoofing is not a modern-day problem. The text messaging spoof is old day technique of scammer.
Technology makes our lives easier and allows us to stay connected with our friends and family. However, as technology progresses, we are also faced with SMS spoofing that is difficult to distinguish from the normal ones.
Studies show that at 5 billion people in the world can send or receive SMSs. While SMSs have been one of our convenient communication channels, they are also not free from the stranglehold of scammers.
In this article, we will learn more about SMS spoofing and how it can be prevented.
What Is SMS Spoofing?
It is a tactic used by fraudsters where they change the mobile number used to send text messages. The sender's mobile number is changed to hide it for carrying out their illegal work. When the receiver of the text message tries to check the identity of the sender, they can only see the changed version that the fraudster is willing to show.
Text spoofing is carried out by using an SMS gateway software by which the texts are sent in bulk before masking the identity of the sender. The scammers are known to impersonate renowned companies with inadequate safeguards or even have their SMS gateways in place.
SMS Spoofing vs Smishing
Is it the same as smishing? Let us understand what is meant by smishing. The idea behind smishing attacks is similar as they also direct the recipients of the text to a malicious URL that is used by the scammers for carrying our fraudulent activities.
Now, while most smishing attacks will mask the sender of the text, it is different from text spoofing as all smishing attacks need not conceal the sender, and usually comes from an unknown number. Smishing attacks may lead you to a malicious landing page to get your sensitive information or trick you into downloading malware onto your device.
How Does SMS Spoofing Work?
You could be astonished to know that in some versions of Kali Linux, there is an "SMS Spoofing Attack Vector" tool in the "Social Engineering Attacks" toolkit. You can personalize the texts and send them to the target recipient while using any third-party number of your choice. At the "Social Engineering Attacks" menu, the fraudsters can create the body of the text that they wish to send.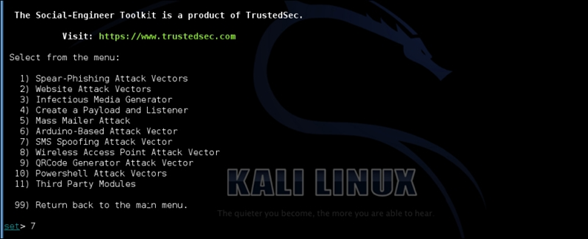 Several entities even provide such services over the internet. You can have paid services while creating the message body of your liking and taking a masked identity to send out the messages.
Ways SMS Spoofing Is Misused
False Sender Company Name
The sender of the spoof text message can take up any identity. In most cases, they take up the identity of a renowned brand to make their texts look authentic. Once the recipient sees the name of the company, they have no reason to think that text could be a spoof. They are then led to whatever action the malicious sender would like them to perform.
Fake Money Transfers
It usually involves retail outlets. The scammer may have the phone numbers that are associated with the bank account of the store. They will fraudulently send an SMS that they have made a money transfer to the account and the store administrator will receive a spoof text message about the transfer. The purchase will be authorized without the store manager knowing about the fraudulent activity.
Personal Agenda
Text spoofing can be used by someone to carry out a personal agenda against another person or, in most cases, an organization. The scammer can use it to carry out relentless to dent the image of a brand.
Extract Sensitive Information
SMS spoofing, along with smishing, can be carried out with an ulterior motive to bring out sensitive information of a person. Even a small text stating that additional documents would be needed for your bank account could lead to a deceptively similar website to get your sensitive information.
Legitimate Uses of SMS Spoofing
Can you believe that there could be a legitimate use for text spoofing! Let us learn about them now.
Banks, insurance companies and telecom operators need to connect with their customers periodically to share essential information. But their customers may not have their contact numbers at the back of their minds. So, they replace their mobile numbers with an abbreviation of their names to let their customers know the sender of the text.
It is also used in bulk SMSs that are sent out using a computer but must use a contact number or anything with which the recipients can identify them. Again, such bulk messages are usually sent out by retail outlets when they must connect with their customers.
Recommended: Is this Website Legit? How Do I Verify a Website is Legitimate?
How Can Users Protect Themselves Against SMS Spoofing?
Most text spoofing is about high-value lotteries that require you to make a token payment. You must not click on URLs that come with the SMSs, even if it seems to be from reliable sources. You must always check when you receive a password reset or a message mentioning anything about your mobile wallet. You must always be on your guard against OTPs received for services that you have not chosen.
If any SMS asks for personal details or financial information, do not fall for them. Always remember not to store your user credentials or your credit or debit card details on your smartphone. Even if your phone security is breached, the hackers would not have access to your financial information.
How Can Organizations Protect Their Brands Against SMS Spoofing?
How can businesses like your, protect themselves from this scam? The finance department must be on their guard against text spoofing and double-check on any fund transfer update or texts related to their wallet balances. They should use a different mobile number to receive such updates.
Businesses must also take the help of Google Verified SMS that helps the recipient to stay assured of received authentic texts from the brand. The sender verification and the branding are attached to the text that allows to authenticate them.
Conclusion
As technology progresses, we often find that fraudsters are quick to embrace them too. While text spoofing can have genuine requirements, they are also used to people into parting with their critical information. Mobile users must always be on their guard against such attacks and staying vigilant is the only way to thwart such attacks.
Related Post: