Vishing or smishing both are phishing techniques carried out on mobile devices. There has been a significant increase in online attacks, with phishing scams becoming powerful through recent times.
The phishers can trick you by sending malicious links on emails. When you click on that link and enter login credentials on the website that seems to be an authenticated site, you become a cybercriminals target.
Vishing scams are common, and easy to get sensitive information from the people by calling them over the phone.
If you do not have enough information about the different vishing techniques, then you may easily fall prey to these attacks. The miscreants call you and create a sense of emergency to extract confidential information from you quickly. By the time you realize that you have been a victim of a vishing scam – you may have already lost your money in your bank accounts or any other sensitive data about your business. Identifying vishing attacks is somewhat tricky.
A complete study about what is vishing, how these attacks are carried out, and how to stay safe against these scams is all you need to protect yourself and your business from the dangerous outcomes of fishing.
What is Vishing?
Vishing is a phishing attack in which the hackers try to get sensitive information (usernames, credit card details, passwords) of the victims over the phone calls using different techniques.
"Vishing" is a conjunction of "voice" and "phishing." Phishing scams are a type of cyber-crimes in which the attackers (pretending to be a legitimate authority) attempt to get the banking details, passwords, user IDs, etc., of the targets by contacting them through emails, text messages, or phone calls.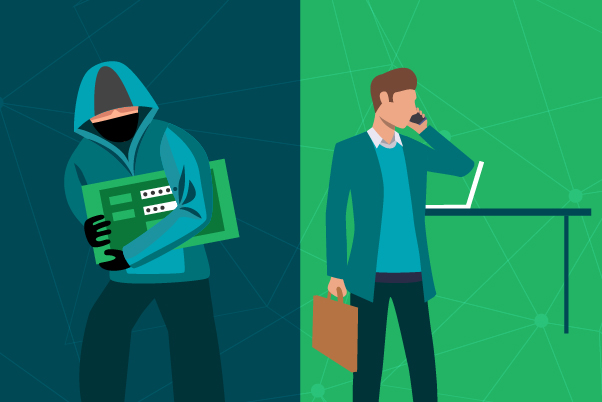 Vishing can also be described as a social engineering scam because the scammers use specific details about the targets to make them believe that the fake caller is reliable. Cybercriminals can use voice over internet protocol (VoIP) to simultaneously make hundreds of calls and spoof phone numbers to make the calls look as if coming from a proper authority.
How does Vishing Work?
Cybercriminals may contact the victims through spoofed caller IDs to make them believe they are talking to an authenticated identity. The attackers can create a sense of urgency to ask personal questions about you quickly. For instance, they may say there is an issue with your bank account and need your banking details/login information to solve the problem.
Sometimes, scammers call you saying you have won a big prize, trips, gifts, etc. They apply all these tricks to get your banking/credit card details, personal identity, user IDs, or other sensitive data. Vishing allows them to quickly get the victim's confidential information before he/she understands that it is a scam. Here is a partial list of standard vishing techniques that you should look for:
There is a problem with your bank account
You have won a lottery prize
Your credit card charge requires confirmation
There is a virus in your computer that needs tech support services
Someone's necessary security code has mistakenly come to your contact number and asks you to provide the code number
The request for funds from a charity
A notice for your arrest has been released
How to Stay Safe against Vishing Scams
You can avoid vishing attacks only by staying up to date about these scams. Here are some of the useful tips that you should use for your security:
1. Do not answer calls from unknown numbers
If you pick the call from an unknown number coming from the attackers, the scammers will come to know that this contact number is active and will eventually lead to more calls.
So, you should avoid attending calls from the numbers that are not on your contact list. If the call is coming from a real person/authority, they will call back later or leave a voice note. The voicemail will assist you in identifying whether or not the call is coming from a valid person.
However, do not entirely rely on someone calling you back again because hackers sometimes make repeat calls nowadays because it makes you believe that the incoming call is an important one. That is why vishing scams are also called social engineering scams.
2. Do not provide sensitive info over phone calls
Financial and government organizations do not ask for your sensitive data over phone calls. Banks can call you if they identify any suspicious activity carried on your account, or they can contact you to tell you about a special event. But they will not ask for the details about your login credentials, addresses, etc.
If you are asked to give any private information, then inquire about the caller's name and identity first. Search online to get the official number of the organization to inquire about the caller's identification.
3. Use caller ID app
Google and Apple both have put tremendous efforts to block scam numbers through caller ID apps. These apps contain almost all the suspicious numbers in their database to keep the users safe from these attacks. If a new number proves to be a vishing scam, you can also add that number to their spammer's list. But due to the presence of multiple voice over internet protocols (VoIP), attackers can easily spoof caller IDs without being detected.
Although depending on caller IDs can prevent you from the vishing scams to some extent but still, you should not pick a call from a number that does not sound familiar.
What should you do if you have fallen victim to vishing scams?
If you have picked a call from an unknown number and given away your sensitive information like banking details, credit card details, or login credentials to someone, but now realize that it was a vishing scam, immediately report the call to your bank and cybercriminal agencies in your country. If you have provided your banking details to the scammers, call the concerned organization and ask for canceling and blocking future transactions from your account. You should also change all your account numbers and passwords to protect yourself from cyber thieves.
Conclusion
Vishing attacks are an easy way to trick the target into providing sensitive information over phone calls. Mostly the people with no knowledge about these scams become a victim of vishers. The hackers create a sense of urgency to confuse you and quickly get all the information before you know this was a trick from cybercriminals. Use what you have learnt here about vishing attacks and protect yourself from these social engineering scams to help you stay safe from these frauds.
Recommended Reading: