Quick step-by-step guide to get fix the "Your Connection Is Not Private" Error.
Web securities are crucial and essential for any website due to the rise in cyber-attacks. Be it SSL (Secure Socket Layer) certificates that provide encryption security to client-server communications; or anti-virus software that prevents, detects, or removes compromised software; or firewalls that block malicious traffic coming to websites, all are excellent securities that prevent cyber-crime.
But these web securities sometimes mess up with web browsers which display errors. These errors need to be fixed for the smooth functioning of the website.

Some errors displayed by browsers are related to SSL certificates. One such SSL certificate error displayed by various browsers is "Your Connection is Not Private".
What Is "Your Connection Is Not Private" Error?
As said earlier, since the browser doesn't trust the SSL certificate installed on the website, it will display a "Your Connection is Not Private" error.
Your website needs a valid SSL certificate for security. If there is an SSL connection error on the website, it may cause data breaches of users.
To provide a secured environment to the users, the browsers verify the SSL certificates installed on the server. They also ensure that user privacy is maintained and the site is safe to access. In case, the browser is not convinced with the SSL certificate security due to any of the above reasons it will display this error.
How "Your Connection Is Not Private" Error in Browser?
Different browsers display this error in varied ways. Let's check them out.
#1. "Your Connection Is Not Private" Error in Google Chrome
Chrome displays the message:
Attackers might be trying to steal your information from domain.com (for example, passwords, messages, or credit cards).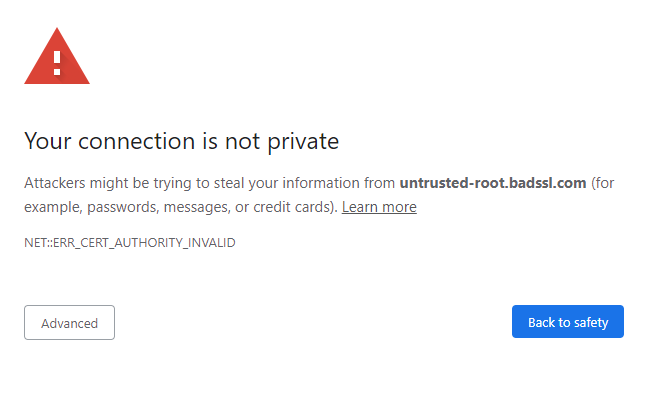 An error code follows this error.
Example: In the above image, the code shows NET::ERR_CERT_COMMON_NAME_INVALID. Some other common error codes include:
#2. "Your Connection Is Not Private" Error in Mozilla Firefox
Some changes in the message text like: "Your connection is Not Secure" will be displayed.
The owner of domain.com has configured their website improperly. To protect your information from being stolen, Firefox has not connected to this website.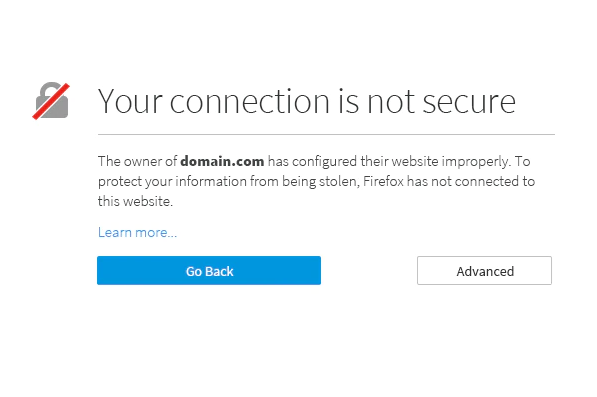 Common error codes which are displayed by Mozilla Firefox are:
SEC_ERROR_EXPIRED_ISSUER_CERTIFICATE
ERROR_SELF_SIGNED_CERT
SSL_ERROR_BAD_CERT_DOMAIN
#3. "Your Connection Is Not Private" Error in Safari
Safari browser displays the error text as "Your Connection is Not Private". An error code like other browsers does not accompany this error in Safari.
This website may be impersonating "domain.com" to steal your personal or financial information. You should go back to the previous page.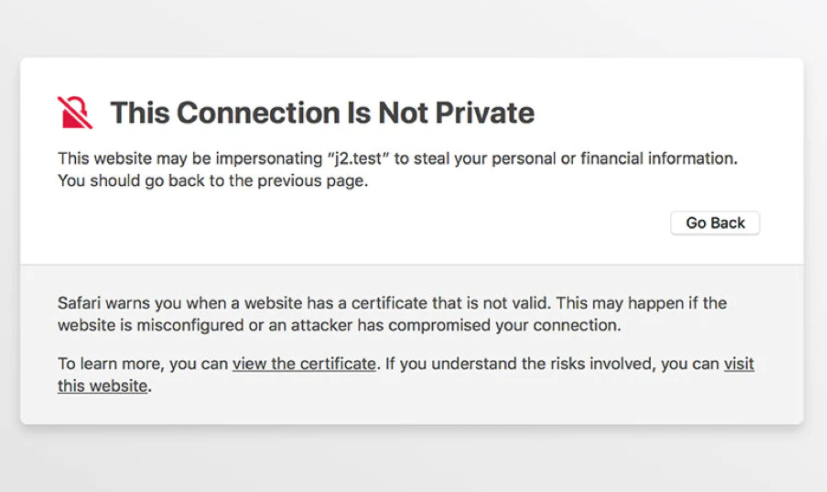 #4. "Your Connection Is Not Private" Error in Microsoft Edge
Edge browser displays a slight variation in the error message: "Your Connection isn't Private."
Attackers might be trying to steal your information from domain.com (for example, passwords, messages, or credit cards).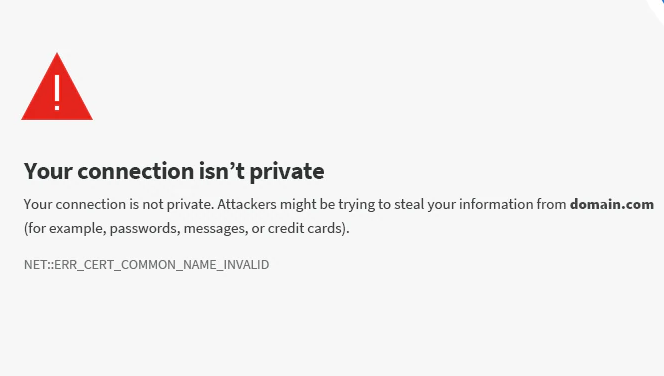 Error codes in Edge browser are:
NET::ERR_CERT_COMMON_NAME_INVALID
Error Code: 0
DLG_FLAGS_SEC_CERT_CN_INVALID
How to Fix "Your Connection is Not Private" Error?
There are multiple solutions to fix this error. Check out the below-mentioned solutions to fix your error.
1. Reload the Page:
The simplest and most obvious solution is to close and reopen your browser again when you encounter the above error. There may be a possibility that the site owner may re-issue the SSL certificate and a browser refresh may solve the purpose.
2. Try Incognito Mode:
Accessing a website in incognito mode will answer your query. Attempt to open the website in incognito mode by following the below process.
The process to open Incognito Mode:
Go to the three dots on the upper right-hand corner and open the Chrome menu
Select "New Incognito window" (press Ctrl + Shift + N)
If you are unsuccessful, maybe clearing the browser cache and cookies can help fix your error.
3. Clear Browser Cache & Cookies:
Each browser stores lots of information in its cache and cookies, like website history, passwords, logins, browsed sites, etc., and uses plenty of hard disk space. It tends to slow down your computer, and in many cases this cache becomes outdated and messes up with web securities, causing the browser to display an SSL error message.
Clearing browser cache and cookies will speed up your computer and fix a majority of the errors.
4. Check the Date and Time:
Incorrect date and time may sometimes trigger "Your Connection not Private" error.
To check the date and time on Windows:
Right-click the date and time on the right-hand corner of the taskbar.
Click "Adjust Date and Time" and Sync your clock and keep the "Set Time Automatically" option enabled.
Once the date and time are rectified, re-check the error.
5. Check your WiFi Connection:
It is found that users using public WiFi connections (i.e. airports, cafes, railway stations, etc.) face this error quite often because all sites may not be HTTPS enabled, and if it is, that there may be SSL configuration issues.
The best option is to go for another WiFi network, or if it's not urgent, it's better to browse when you are at a safer destination, i.e., home or office.
Even the use of VPN (Virtual Private Network) benefits in protecting your data and identity, encrypting your exchange server information, avoiding bandwidth throttling, etc. while accessing your desired site.
6. Check Anti-virus Software:
Other web securities may sometimes interfere with your network and restrict access to genuine sites. Disable the SSL scan option in your anti-virus software. In case such an option doesn't exist, then temporarily disable anti-virus software and recheck for error resolve.
Once the error is resolved, enable the software again. If the error persists, it is advisable to opt for another anti-virus software for your web security.
7. Proceed Manually with Vigilance (Unsafe):
Irrespective of the browser warning, if you still need to access your desired website since you are sure about the authenticity of the same, click on the bottom line of the page, i.e., Proceed to anysite.com (unsafe).
Doing so may put your private information at risk, and I would recommend not using this solution. Your data will not be encrypted, and your privacy will be at a considerable risk of being compromised. There is a possibility that the website you are trying to access is compromised or the SSL certificate is misconfigured.
When you are accessing from a public place, it is highly advisable not to open such sites.
8. Ignore the SSL Certificate Error (Unsafe):
If you are manually proceeding with an unsafe website, it means you have temporarily fixed the error. To ignore the error permanently, you can set your browser so that it ignores SSL errors completely. This too is an unsafe option, since it does mute the warning message.
Process for Windows:
Right-click the Chrome icon on your desktop and click Properties.
In the Target field, add the remarks "-ignore-certificate-errors", after the quotation sign.
Later click, Ok.
If the error occurs, detour it and click the Proceed button.
Re-open the website, since the error has been resolved.
9. Try Accessing the Website via Proxy
A proxy redirects the internet connection via a remote server. It can be enabled in the Google Chrome browser by following the below method.
Click on three dots in the top right corner.
On the left side, click on "Advanced"
You will have different options there out of which you need to click on 'System'
Now, click on "Open your computer's proxy settings."
You will have a new window where you need to check 'Manual Proxy Setup'.
Turn on 'use a proxy server'.
Add proxy server's address and port number in given fields.
Click Save.
A proxy server helps to identify that the website is connecting via another network. It may happen that 'Your Connection is not Private' appears only on the website while visitors will not see such types of errors. You can use third-party tools, hide me to access a website via proxy.
Final Thoughts:
There are many simple solutions for different errors. So, if you see the "Your Connection Is Not Private" error by your browser, don't be anxious, instead, try out these solutions one by one and fix your error.
Recommended Reading: