Cybersecurity is one of the critical aspects of modern business activities. Its importance is due to a massive increase in cyber-attacks. For example, A Forbes report suggests a 15.1% increase in cyber-attacks during 2021 compared to 2020.
SSL (Secure Socket Layer) is an encryption-based cryptographic protocol to secure your website. It enables HTTPS-based security to protect the data exchanged between the browser and the user's device. This is why it is essential to have a reliable SSL certificate from a trustworthy Certificate Authority (CA) installed on your website.
Here we will be discussing some of the most significant SSL Certificate Statistics. Your knowledge of data on SSL certificates and their state can help you understand the importance of installing a digital certificate. So, let us begin our statistical journey.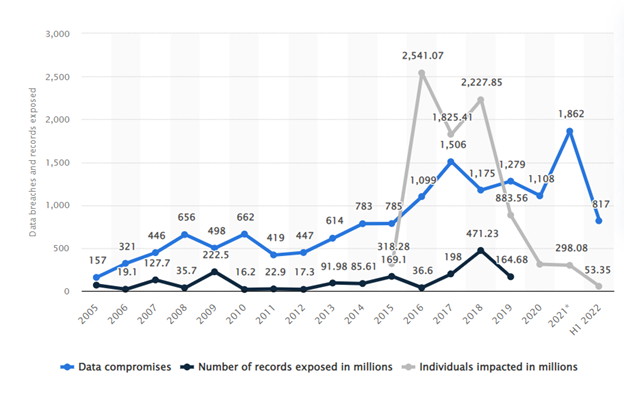 Image Source – statista.com
SSL Certificate Statistics
Below are some interesting SSL facts which shows why an SSL certificate matters for Website Security.
1. The total number of attacks per company increased from 206 to 270 year over year in 2021.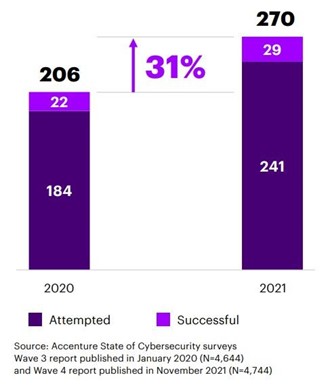 Image Source – Accenture
The Accenture report shows that companies were facing cyberattacks more than ever in 2021. It has seen a massive increase of 31% in cyber-attacks per company, raising the number to 270 from 206. These attacks include unauthorized access to information, applications, essential services, network devices, etc.
2. There are more than 2,403,857 SSL certificates on the internet, empowering security for the top 1 million websites worldwide.
According to Builtwith, the total number of websites using the SSL certificate is more than 2,403,857 till 2023, helping organizations secure websites.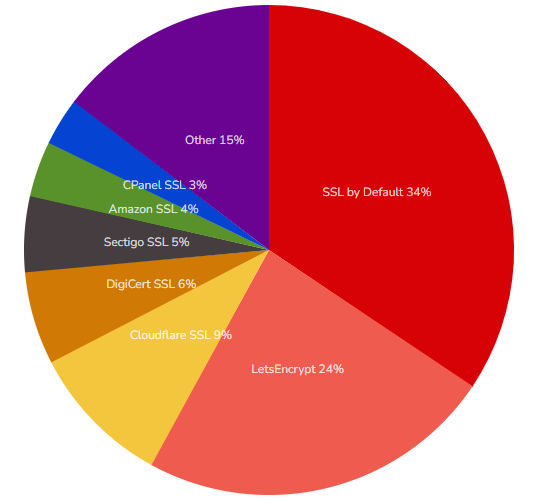 Most websites use SSL by default. 34% of the total sites on the internet have SSL by default, and others use SSL certificates from leading certificate authorities like DigiCert, Sectigo, Comodo, etc. It is one of the significant SSL facts that show HTTPS security is a priority for several businesses.
3. 95% of traffic across the Google search engine is encrypted, ensuring a secure experience for users.
Google is one of the most significant search engines. It ensures the security of each search a user executes on the search engine. Furthermore, with specific guidelines of HTTPS security for website publishers to rank in the search engine result pages, it ensures that most websites are secure to browse.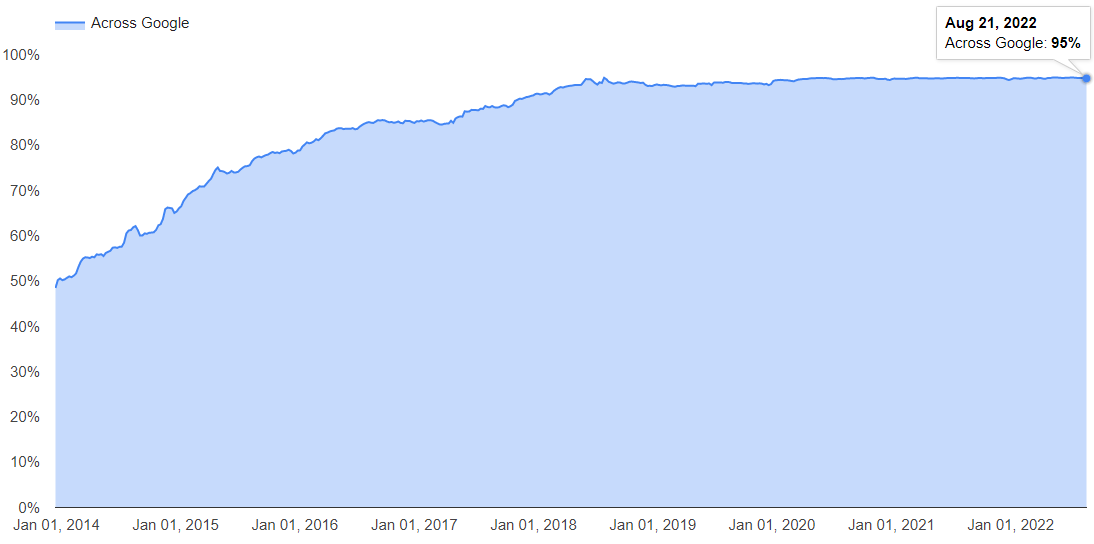 Image Source – Google
4. According to Splunk's The State of Security 2022 report, 78% of security experts and IT leaders say securing remote employees from cyberattacks is the most challenging.
The report suggests that more than 65% of organizations are facing a massive increase in cyberattacks since the pandemic. IT leaders and experts from these organizations have reported difficulty securing their remote employees from ransomware attacks.
5. NASDAQ reported that in 2020 the entertainment industry faced 58% of attacks related to denial of services.
NASDAQ said that many sectors faced cyberattacks in 2020, with some facing specific attacks. For example, the entertainment industry faced the denial of service to customers. Similarly, the report also shows that 92% of attacks in public administration organizations are related to the loss of digital assets.
6. A World Economic Forum survey found that 80% of the respondents believed ransomware attacks to be one of the most significant cyberattacks.
World Economic Forum's Global Cybersecurity Outlook 2022 found that more than 80% of respondents stressed ransomware being the more dangerous cyberattack. Further, the survey also found that 50% of respondents indicated ransomware as one of their organization's most significant concerns. Cyber attackers execute ransomware attacks using social-engineering practices and are one of the most evolving threats in the IT industry.
7. According to CybersecurityVentures, the cost of cybercrimes worldwide will increase at a rate of 15% and reach $10.5 billion by 2025.
CyberSecurityVentures expects the cybercrime costs to increase by 15% per year. Therefore, it is a crucial SSL statistic because digital certificates can help you reduce cybercrime costs with enhanced security.
8. WatchGuard's Internet Security Report – Q3 2021 indicated that zero-day malware attacks over SSL/TLS increased to 67.2%.
Internet Security Report 2021 published by WatchGuard observed the increase in zero-day malware from 31.6% in Q2 to 47% in Q3. Such attacks are executed over SSL/TLS, making them a vital SSL fact. Organizations should seek an SSL certificate from a trustworthy certificate authority to avoid such attacks.
9. Sectigo SSL is the third largest certificate authority in the market, with a share of 11.7%, with IdenTrust at the top.(W3Tech)
W3Tech's market analysis accounts for a significant SSL certificate statistic providing data on top certificate authorities. According to the report, only 4.6% of websites do not use SSL certificates from leading certificate authorities like IdenTrust, Sectigo, DigiCert, etc.
10. The most used type of SSL certificate is the domain validation (DV) certificate, with an 80.5% of share between Organization Validation (OV) and Extended Validation (EV) certificate.
Domain validation SSL certificates are one of the most popular digital certificates used by organizations, according to the report by 101domain.com. Other types of SSL certificates, like the organization validation type, have a 17.5% market share, and the extended validation type accounts for 2% of usage.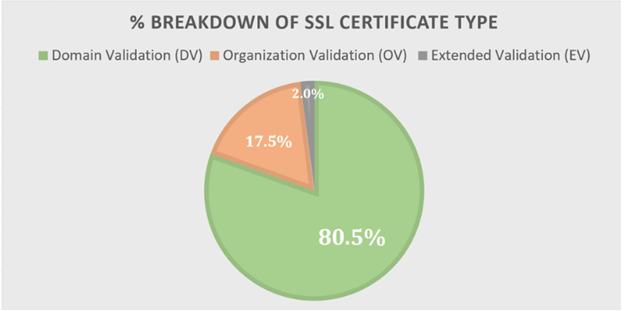 Image Source – 101domain.com
11. Gartner predicts an increase of 45% in cyber-attacks by the end of 2025.
Gartner's report shows that organizations will face increased supply chain threats. As a result, security experts and risk management teams must work with other departments to ensure secure operations. Digital supply chain risk is a significant threat for several businesses and one of the SSL facts that is key to your cybersecurity strategy.
12. Any organization, on average, has more than 23,000 certificate keys, and 54% of IT leaders do not know where these keys are stored.
According to the survey by Fortinet, one of the critical issues with significant organizations and SSL certificates is management. Unfortunately, most IT leaders and professionals in organizations do not know how encryption keys are managed.
13. The SSL certificate authority market is growing with a CAGR of 12.3% and is expected to reach $226 million by the end of 2026.
The global certificate authority (CA) market recorded revenues of $127 million in 2021. According to MarketsandMarkets, the CA market will increase and reach $226 million in revenues by 2026. It is a vital SSL fact that organizations spend more on digital certifications.
14. IBM reports data breaches due to email compromises across businesses had cost them more than $5 million in 2020.
According to the IBM report cost of data breaches has reached an all-time high in 2022, with an increase of 2.6% from 2021. The average cost of data leaks is climbing due to a lack of proper security.
15. Phishing attacks have hit an all-time high with more than 1 million attacks in the first quarters of 2022.(WAGM)
Phishing attacks may be a conventional approach for cyber attackers, but it has seen a massive increase in 2022. The first quarter of 2022 saw phishing attacks rise to more than a million using social engineering practices.
16. Mobile devices are one of the most significant targets for phishing attacks, with 85% of the threats coming through mobile URLs.(Lookout)
Mobile devices are one of the prime targets for major phishing attacks. For example, a report from the Lookout users has been subjected to phishing attacks because they clicked on a URL sent on their mobile phones.
17. 95.8% of websites still use TLS 1.2 despite the release of TLS 1.3(Postswigger)
Despite the release of TLS 1.3, most websites still support TLS 1.2. However, many browsers like Mozilla and others have deprecated support for TLS 1.0 and TLS 1.1. Therefore, it is a crucial SSL fact that the deprecation of TLS 1.0 and TLS 1.1 has improved security performance for several browsers.
18. Over 53 million individuals were affected due to cyberattacks in the first quarter of 2022. (Statista)
In the first quarter of 2022, the total number of data breaches in the US was 817, with more than 53 million people affected. These attaches include data theft, information leakage, personal information exposure, etc. Sensitive data accessed by cyber attackers has been a significant concern for several organizations and businesses.
Conclusion
These SSL certificate statistics indicate some of the most alarming scenarios for businesses. However, ignoring the encryption-based certification can be a big mistake. SSL certificates are an essential security measure for data protection and a search engine optimization strategy.
As we discussed, Google also recommends HTTPS security for websites to rank on the search engine rankings; understanding the SSL facts is vital for your business. So here, we have provided some of the most significant statistics for your cybersecurity strategies. If you have doubts about how SSL certificates can help you avoid cyber threats, feel free to comment below.
Recommended Reading: