In a digital age where data leaks are becoming sort of an everyday news headline, individuals and businesses are investing more and more capital in the security of their websites. Businesses generally acquire employee and customer information via login forms and financial transactions and this occurs on a regular basis. The security features of these processes have come under scrutiny lately by Google.
Advocating safe web browsing, Google came up with a large scale HTTPS adoption and SSL certification process. It announced in February 2018 that HTTPS will be made mandatory for all websites with the release of the Chrome 68 version in July. The absence of an SSL certificate means your website will be marked as 'Not Secure' by Google.

What is an SSL certificate?
SSL (Secure Sockets Layer) is a security technology used to establish a secure connection between a user's web browser and the server. It creates an encrypted connection that prevents hackers from intercepting the data being transmitted in the process. This prevents sensitive user information such as credit card details and login credentials from being compromised.
SSL can also be established between a mail server and a mail client, for example, Outlook. SSL secured websites begin with HTTPS. It is indicated by the presence of the 'lock' icon on the left corner of the address bar, followed by a 'Secure' tag.
How does an SSL certificate work?
When a user opens up a browser and types in the URL of an SSL secured website, various things happen at once. They are collectively called an SSL handshake. Let's see how it works:
Immediately after sending the connection request, the browser asks the server to identify itself.
The server sends the browser a copy of its SSL certificate, which also includes its public key.
Now the browser checks for the authenticity of the server's root certificate. It checks whether the certificate is provided by a trusted third party organization, such as Comodo, RapidSSL, GeoTrust, Thawte, Digicert etc. It also checks if the certificate is unexpired. If the result is favorable, the browser creates a symmetric session key using the server's public key. The session key is used to encrypt all the data shared with the server. However, if the browser doesn't trust the server, the communication fails and no connection is established.
The server decrypts the session key using its private key. An acknowledgment sent by the server begins an SSL encrypted session.
Types of SSL certificates
There are 3 types of SSL certificates one can acquire for a website, namely
Types of SSL Certificates
The three differ based on their security levels:
1. Domain Validated (DV) SSL certificates

DV SSL is the lowest form of SSL. It does provide security but there is no identity assurance. DV SSL validates only domain ownership. It does not show the organization details. Hence, DV certificates are priced lowest. DV SSL certified websites have only the padlock and the 'HTTPS' tag.
2. Organization Validated (OV) SSL certificates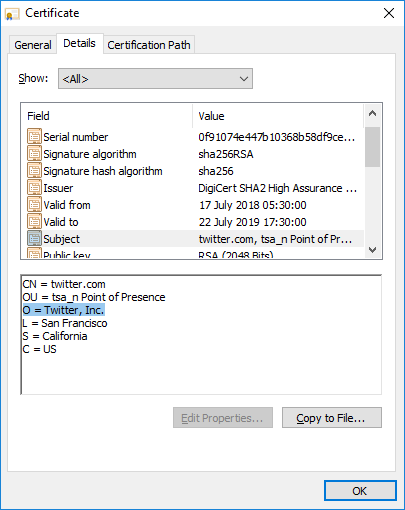 On the other hand, OV SSL provides the additional benefit of organization validation, i.e., it validates that the organization exists. It shows organization name in the certificate details that presents users the opportunity to ascertain that the site they're on or dealing with, is legitimate.
3. Extended Validation (EV) SSL certificates

EV SSL goes a step further in establishing customer trust for their data security. By using this type of SSL certificates, the browser's address bar shows the company name for that website. It is the most trusted website security solution. Even the most inexperienced user will find it easy to understand that the site is legitimate to use. EV SSL is used by leading businesses worldwide to boost their sales.
Why to use SSL certificate?
Encryption: One obvious benefit is that of encryption of user's sensitive information. Usernames, passwords and credit card information are kept out of the reach of hackers. Man-in-middle attacks cannot have an effect when accessing SSL certified websites. There is no compromise on confidential information.
Authentication: SSL checks for the authenticity of the web server. It negates the possibility of an imposter attempting to pose as a reputed organization. Given the rigorous procedure that needs to be undertaken to obtain an EV SSL certificate, it is close to impossible for imposters to pose as organizations.
Trust: The trust factor is the biggest benefit of using SSL. The padlock and text ahead of the website URL instill a feeling of trust in the user. This improves the confidence of the user as well as customers too.
Global browser usage statistics by w3schools indicates that 79.1% of users worldwide prefer Google Chrome over other browsers. Firefox comes a distant second at 10.2%. It's quite clear that Google has managed to beat its competition hands down. This comes at a time when Google is advocating HTTPS adoption big-time. With a huge portion of users preferring Google Chrome, we are seeing a rapid movement from HTTP to HTTPS.
Google says that HTTPS also brings in extra features such as better search result ranking in addition to improved security, thus encouraging more websites to switch to HTTPS.
It was reported in September 2016 that more than half of Chrome desktop page loads used HTTPS. From January 2017 (Chrome version 56), Google has been explicitly marking HTTP sites as 'non-secure'. After that move, the global HTTPS adoption graph has been a steady upward curve.
The figures rose quickly and by February 2018, over 68% of Chrome traffic was protected. The top 100 sites had 81 using HTTPS by default.
So we're saying…
With the data revolution ensuing, the threat to confidential information available on the digital platform is growing. SSL keeps hackers and other cyber thieves at bay by encrypting your data while it is in transit. With the help of SSL, you can be certain that your information is being encrypted by the reputed & trusted certificate authority SSL certificate that are available at the cheapest price at ClickSSL.